Visit Nepal 2022 – Lifetime Experiences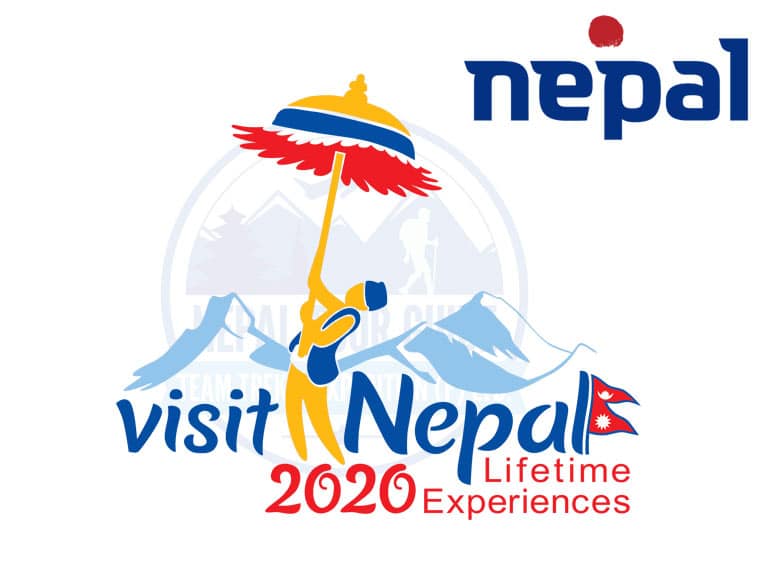 Visit Nepal 2022 Slogan
Visit Nepal 2022: Lifetime Experiences
Visit Nepal 2020 Logos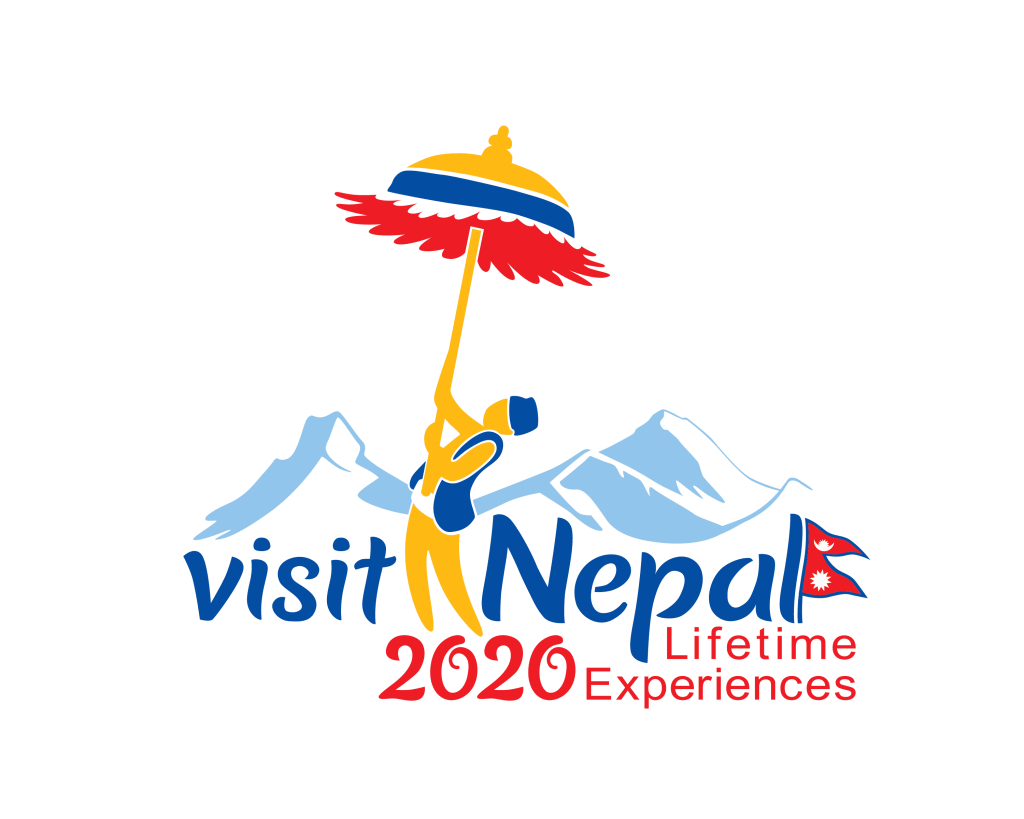 Government of Nepal and Tourism Board is announcing the visit Nepal 2020 campaign. The program for travelers to visit Nepal 2020 to promote the traveling ways to widen the transportation ways and increasing the more hospitality of hotels and to make the more reasonable price of room booking.
To make more adventurous travel you should visit Nepal and do adventure activities like paragliding, bungee jumping, zip flyer etc you will get these opportunity to do in more best package in visit Nepal 2020 . In Kathmandu, Pokhara and many more places of Nepal government is providing 24 hours security for night entertainment like night club, restaurant, pub, casino, Bar many more in 2020 . If you thinking to travel in 2020 you will get best opportunity for life time experience.
In visit Nepal 2020, 7 states of Nepal is promoting the local tourism for their own state in Everest region trek is offering you to trek in reasonable cost, sightseeing tour and day tours in Kathmandu, Pokhara , Chitwan , Lumbini, Janakpur, Rara lake and Eastern Nepal to visit Nepal 2020.
Top Reasons to Visit Nepal 2022
The UNESCO world heritage sites
We offer you to visit world's heritage site in Nepal. There are 10 world heritage sites where you can view culture of Nepalese people. Most of monuments are in Kathmandu valley so we can easily visit the heritage. The list of Nepal's UNESCO heritage sites are:
Pashupatinath
Boudhanath
Patan Durbar square
Swayambhunath
Changunarayan
Kathmandu Durbar square
Bhaktapur Durbar square
Sagarmatha National square
Lumbini
Chitwan National park
Nepal Heritage Sites Entry Fees – Visit Nepal 2022
Please note: All prices are mentioned in Nepali Rupees (NPR)
Nepal Tourist Site
Non-SAARC Countries
SAARC Countries
China
Nepal
Fee Exceptions
Remarks
Bouddhanath Stupa
NPR 400
NPR 100
NPR 400
Free
Free for children below 10 years
—
Bhaktapur Durbar Square
NPR 1,500
NPR 500
NPR 500
Free
Free for children below 10 years (groups from 11-20)
—
Changunarayan Temple
NPR 300
NPR 100
NPR 300
Free
—
—
Central Zoo
NPR 250
+
NPR 150 for children between 4-12 years
NPR 250
+
NPR 150 for children 4-12 years
NPR 250
+
NPR 150 for children 4-12 years
NPR. 50
+
NPR. 25 for children 4-12 years
—
For Nepali Students NPR 30
Chitwan National Park
NPR 1,500
+
13% VAT
NPR 750
+
13% VAT
NPR 1,500
+
13% VAT
NPR 100
+
13% VAT
—
Price Per Day Per Entry
Chitwan Elephant Breeding Camp
NPR 50
NPR 25
NPR 50
NPR 10
—
Elephant ride fare – Foreigner: NPR.. 2,500; SAARC: NPR.. 1,500; Nepali NPR. 500
Ethnographic Museum
NPR 200
NPR 100
NPR 100
For students NPR 15
Others NPR 35
—
—
Garden of Dreams
NPR 200
NPR 200
NPR 200
NPR 100
Free for children below 5 years
For children between 5-11 years NPR 50
25% discount for a group of 10
International Mountain Museum
NPR 400
NPR 200
NPR 400
NPR 80
—
—
Kapilvastu Museum
NPR 10
NPR 5
NPR 10
NPR 2
—
Closed on Tuesdays
Kathmandu Durbar Square
NPR 1,000
NPR 150
NPR 1,000
Free
Free for children below 10 years
Includes trip Tribhuvan Museum Visit
Lumbini
NPR 200
NPR 100
NPR 200
Free
—
For Indians
NPR 16
Lumbini Museum
NPR 50
NPR 50
NPR 50
NPR 10
—
Closed on Tuesdays
National Art Museum, Bhaktapur
NPR 150
+
NPR 100 for cameraNPR 200 for video camera
NPR 50
+
NPR 50 for cameraNPR 150 for video camera
NPR 150
+
NPR 100 for cameraNPR 200 for video camera
For Students NPR 10 Others
NPR 25
+
NPR 50 for camera NPR 100 for video camera
—
Closed on Tuesdays. The fee includes wood carving and brass and bronze museum in Dattrareya Square
Pashupatinath Temple
NPR 1,000
NPR 1,000
NPR 1,000
Free
—
Per Day Per Entry * Free for Indian Nationals Tourists can view the temple from the back premises
Patan Durbar Square
NPR 1,000
NPR 250
NPR 1,000
Students with letter from school NPR 10 Student Card Discount NPR 20 Others NPR 30
—
This includes Patan Museum visit * Entry fees for Nepalese are applicable only for Patan Museum
Patan Golden Temple
NPR 50
NPR 20
NPR 50
Free
—
Closed on Buddha Jayanti
Swayambhunath Stupa
NPR 200
NPR 50
NPR 200
Free
Free for children below 10 years
—
Tharu Cultural Museum
NPR 25
NPR 15
NPR 25
NPR 10
Free for children below 10 years
—
Please write to us or visit us for updated entry fees of heritages sites of Nepal.
The Buddhist culture
Nepal is birthplace of Lord Budhha where we can get the peace and prospective lesson to learn. Nepal Tour Guide Team is offering you to visit the thousands of Buddhist people and Tibetan Buddhism tradition and Sherpa's culture from Buddhist culture and Monasteries.
The Hindu Culture
Nepal is the country where more than 80% people follow Hinduism. This visit will show you the Nepalese festival's and opportunity to study about the culture, belief, many more temple . Where people worship god from hundreds years ago.
The Luxury Hotels
If you want fresh breathing air you must visit Nepal where we have wonderful options for beautiful boutique accommodation in Kathmandu, Pokhara, Chitwan National park, Namo Buddha and Nagarkot have most unique hotels in Kathmandu in reasonable package.
Experience wild safari in National Parks of Nepal
Jungle safari tour package offer you to visit Terai region and hill region where we can view hundreds of flora and fauna which are being in endangered list and you can also visit bird seeing and animal habitat, beautiful grassland to do deep drive and jungle walk in Chitwan National park . In Chitwan National park you can also get glimpse of Royal Bengal Tiger.
Trekking in Nepal – Discover the world famous trekking routes of Nepal
Nepal is historically a beautiful country located in mid Asia which is surrounded by Himalaya's in northern part. We offer you to view Mt Everest, Annapurna region, Langtang valley trek. Nepal is home of tallest peak in the world . We offer you trekking in these region in best service and facilities which you may get more memorable moment and adventurous experience for trekking. We can also treks like Pikey Peak, Jiri to Lukla, Everest Base camp trek and many more to view openly the full mountain view
Nepal Tours and Sightseeing – Explore the history, culture and lifestyle of Nepal
Nepal Tour Package offer you to the journey of beautiful scenery for nature. We offer you activities like sightseeing of natural beauty which have magnificent importance in the culture , art, and tradition of different religion. You can do thrilling activities like such as Bungee jumping, Whitewater rafting, Paragliding along other adventurous sports.
We also have beautiful scenery, wildlife jungle safari, tradition and culture with many different Hindu temples and ancient Buddhist monasteries and stupas to view the cultures of people.We can start our from journey from capital city Kathmandu tourist area in Kathmandu and busiest market, Newari culture and ancient city of Kathmandu we can find different people who believe in different religion. We can also do paragliding in Pokhara which is more adventurous to feel like flying in the high sky like eagle and the fresh breeze we can gain. In Pokhara we can also do boating in Phewa lake. In Himalaya mountain trekking you can find beautiful scenery you can also visit the nearest place of Tibetan and trading way of Tibetan and other activities of their many more Buddhist monasteries we can visit in Himalaya the gate way of Annapurna.
Private Tour in Nepal
Private Tour in Nepal is more than just fun, it is also a great spiritual experience. Nepal tour awards travelers to get the deeper insight of culture, tradition and lifestyle of people in a comfort manner. Venture the vibrant city Kathmandu which is known as the repository of ancient heritage and monumental structures. Our multi-lingual guide joins you for cultural tour in Nepal, you will explore the valuable insight of Nepalese tradition and interacting with local community adds excitement to your vacation and rejuvenate your spiritual experience.
If you are planning to visit Nepal with families and friends or seeking for honeymoon destination, there are myriad of place filled with natural and cultural wonders. Pokhara is the best and most sought destination for honeymoon tour in Nepal.
Private Day Tour
Tour Guide in Nepal organize private day tour with an extensive range of travel holidays and adventurous trip in Nepal. We firmly believe in making our personalized tour in Nepal to the high class and also believe in creating a great impression to our guest that lasts for years. Private Day Tour in Nepal is carefully designed package that helps make your trip stress free and special from the very moment you make booking to the time we say farewell at the conclusion of this pleasant trip.
If you are looking for ideal location for biking, observing traditional cultures and lifestyles, art and architecture, photography or wants magical view of mountain in a single day trip in Nepal, we will help you crafting the best itinerary to make it memorable one. You can therefore forget the stress and enjoy the most.
Day Hiking
Nepal Tour Guide Team offer you a Day Hiking in greenery land of earth where you can breath fresh air and enjoy the sightseeing in height of fresh air and enjoy the sightseeing in height of peaks. We can do day hiking in many places like Nagarkot and Dhulikhel, Sarangkot and many more places where we can hike without any trouble and friendly people with amazing environment. Day hiking is more adventurous to do with friends. If you looking for day hiking you have Himalayan region hiking option.
Nepal Travel Guide/Information
Quick facts
| | |
| --- | --- |
| Population | 30 Million |
| Currency | NPR (Nepalese Rupees) |
| Language | Nepali (Official) and other 129 dialects |
| Time Zone | (GMT+05:45) |
| Capital | Kathmandu (Central Region) |
| Dialing Code | +977 |
| Government | Federal Democratic Republic of Nepal |
| President | Bidhya Devi Bhandari |
| Vice President | Nanda Bahadur Pun |
| Prime Minister | Khadga Prasad Sharma Oli |
| Neighboring Countries | India, China |
| Minimum Longitude | 80.060 |
| Maximum Longitude | 88.200 |
| Minimum Latitude | 26.360 |
| Maximum Latitude | 30.430 |
| Area | 147,181 Km Sq. |
| Driving Side | Left |
| ISO 3166 code | NP |
| Internet TLD | .np |
| National Color | Crimson |
| National Flower | Rhododendron |
| National Bird | Himalayan Monal |
| National Animal | Cow |
| National Sport | Volleyball |
| National Anthem | Sayaun Thunga Phool Ka… |
| Official Website | http://nepal.gov.np/ |
Weather and Climate in Nepal – Best Time to Visit
Nepal has main four seasons like autumn, winter, spring and monsoon. But, the climate changes as per the elevation which goes from 60m (Kechana Clan) to 8848m (Mount Everest) above the sea level.
Autumn Season (September, October and November)
Autumn in Nepal is the most popular season for tourism activities and best time to visit Nepal. Generally, the travelers plan to visit Nepal during the September, October and November months of this season for best travel experience.
Basically, the weather in autumn is best for trekking and other activities. Autumn is the time after the monsoon season with the clear skies and stable weather. Trekkers are crowded on the major classic trekking routes of Nepal during this time.
Best Treks in Nepal during Autumn Season
Mardi Himal Trek
Everest View Trek
Festivals in Nepal during Autumn Season
You can also experience the majestic cultures and festivals like Teej, Dashain, Tihar and Chaath Parva during autumn.
Winter Season (December, January and February)
Generally people do not travel to Nepal during winter season because of cold weather and snowfall. However, you will have options for city sightseeing, adventures and trekking to low altitudes (not higher than 3500m).
Kathmandu, Pokhara, Chitwan National Park, Lumbini, Bandipur, Nagarkot are some best places to visit during winter in Nepal for your holidays. The temperature is moderate during the day whereas you feel a little bit cold at night at low altitudes. Whereas expect high snowfall and cold weather at higher altitudes.
Festivals during Winter in Nepal
Some street festivals, Tamu Lhosar, Sonam Lhosar, Basant Panchami, Maha Shivarati and Gyalpo Lhosar are some cultural festival you may like to experience during winter in Nepal.
Spring Season (March, April and May)
Spring is another best season for traveling in Nepal after autumn season. This is the most buzzing time for extreme adventures like peak climbing, trekking and mountain expeditions. The season brings the warmer weather after the freezing cold season.
The mountain views are clear and cold weather at higher altitudes whereas you feel warm weather at lower altitudes. The popular trekking routes are often crowded but you may choose an offbeat trekking trails if you want to avoid the crowds. The blooming of the rhododendron flowers over and around the hillside and valleys looks awesome.
Festivals during Spring in Nepal
Holi also named as Fagu Purnima
Ghode Jatra
Nepalese New Year
Bisket Jatra
These are some colorful festivals you may take part in.
Monsoon Season (June, July and August)
Summer or Monsoon season brings the rainfall and bad weather for trekking in Nepal. You may expect rainfall staring from end of the June to early September. The flights may be canceled due to bad weather, roads blocked by landslides and low visibility might be worst part of your journey during this season. But, the discounts at hotels, greenery around the villages and jungles, cultures are some pros of this season.
Best Treks during Monsoon in Nepal
You can go trekking to the rain-shadow areas like
Upper Dolpo Trek
Upper Mustang Trek
Annapurna Circuit Trek
Nar Phu Valley Trek
Humla Limi Valley Trek
Tilicho Lake Trek.
These are the isolated and remote trekking destinations of Nepal.
Festivals during Monsoon in Nepal
Asar 15 – Ropain Jatra (National Paddy day)
Nag Panchami
Gai Jatra
Janai purnima
These are some cultural events to witness in monsoon in Nepal.
News and Updates About Visit Nepal 2022
Nepal Government has put off all the promotional activities that held in foreign countries amid of Coronavirus.
Visit Nepal Planned for 2022
Nepal Government and Tourism Ministry has been working on the Visit Nepal 2022 after the campaign Visit Nepal 2020 has officially postponed. The campaign was postponed due to the coronavirus outbreak throughout the world.
Visit Nepal 2022: Frequently Asked Questions
Is Nepal worth visiting?
Nepal, the country of Himalayas, cultures, serene, lakes, rivers and waterfalls, jungles and wildlife, adventures and scenic landscapes offers you much to facilitate your holidays. It is generally safe for tourists to visit around.
When should I visit Nepal?
Visiting Nepal from September to December and March to May are the best time to enjoy your holiday. During this time, the blue skies are clear, wild flowers are in full bloom, taste the cultures, festivals and typical Nepali foods and have the best weather.
How many tourists will there be in 2022?
Nepal expect to welcome 20 million tourists during Visit Nepal 2022 and so the preparation has been done.
Why should I visit Nepal?
Nepal is itself a heaven for travel enthusiasts and can get all the activities for their holidays. Nepal offers you a plenty of travel options from city guides tours to high mountain expedition.
What are the famous food in Nepal?
The famous food in Nepal is Dal Bhat. Besides you can enjoy the Sel Roti, Momo, Chowmin, local cultural dishes as well as international cuisine.
What things to buy as souveniour in Nepal?
You can buy Pashmina, Khukuri, mantra stones, beaded jewelries, tea and spices, Nepalese flag, Map as souvenir in Nepal.
What are the major things to do in Nepal?
Trekking, Cultural tours, peak climbing, mountain expedition, bungee jumping, paragliding, rafting, jungle safari, zip flyer are some famous things to do in Nepal. For more activities, you can view above on top 20 things to do in Nepal section.
What are the major attactions or places to visit in Nepal?
Kathmandu, Pokhara, Bandipur, Chitwan National Park, Lumbini, Nagarkot, Annapurna, Everest, Langtang Manaslu are some major attractions that visitors like to visit. Beyond these, there are many other places which you should visit while you are in Nepal. Get detailed information about the places to visit in Nepal in above section.