Chisapani Nagarkot Trek - 4 Days
Trip Overview
Chisapani Nagarkot trek is one of the most amazing and shortest trek. During this Kathmandu Valley Trek you will get the panoramic view of Langtang, Manaslu, Ganesh himal and many more here. Chisapani Nagarkot trek is most adventurous and fun. In this trek we get chance trek in middle way of forest with scenic view on the way. Our trek is starting from Sundarijal where you will get through the drive. After reaching Sundarijal we will ahead to Chisapani in here we can see Tamang settlement and civilization of there. We can learn about their lifestyle and cattle farming here. Chisapani is place far from the Kathmandu city which have noise pollution.
We will trek to Jhinu Danda where we can see only forest no human settlement. When we reach Nagarkot we can see human settlement if anyone is in interested they can do homestay.  From Nagarkot hill you can see beautiful sunrise and sunset view and Himalayan peaks. This trek will take you the height Kathmandu valley.
Trip Highlight
Explore the nature with clear clouds and Kathmandu valley view from height.
Visit of Shivapuri Conservation where you will find different varieties of species here.
Panoramic view of Langtang, Ganesh himal, Manaslu and many more.
Nagarkot sunrise and sunset view.
Visit Tamang settlement.
Itinenary
Price Details
Faqs
Reviews
Itinenary
Arrival day

Arrival at Tribhuwan International Airport our representative will escort you to hotel.
Rest at hotel.
Overnight at hotel.

Drive to Sundarijal and walk to Chisapani (4 to 5 hrs of walk)

Breakfast at Hotel.
Then we will drive to Sundarijal. After reaching sundarijal our trek start. In here we can see Tamang settlements here and their civilization flora and fauna.
From this trek you get the panoramic view of mountains like Langtang, Manaslu, Ganesh Himal and many other.
In this trek we get chance to get involve in nature.
Overnight at Chisapani.

Trek to Jhinu Danda (4 to 5 hrs of walk)

Breakfast at Chisapani.
Then we will trek to Jhinu Danda from Chisapani. On the way of trek we will cross the forest. This place is joined with Shivapuri National park. Many different species we can see here.
In this place there is no any human settlement here we need reach the Jhinu danda to stay.
Overnight at Jhinu Danda.

Trek From Jhinu danda to Nagarkot (3 to 4 hrs of walk)

Breakfast at Jhinu danda.
Then we will trek to Nagarkot where you get the panoramic view of Himalayan view. From Nagarkot height we get sunrise and sunset view.
Overnight at Nagarkot.
Price Details
Price Includes
Accommodation in 3 –star category hotel in Kathmandu and in Nagarkot. Included breakfast.
Accommodation in local tea house in trekking area.
All meal in trekking.
Accommodation in trekking area in local tea house. Include breakfast, lunch and dinner.
Surface transportation service charge.
An experienced English-speaking guide during trip.
TIMS, permits, Government tax and our office service charges.
Airport pickup and drop.
Price Not Includes
Lunch and dinner in Kathmandu.
Personal expenses like alcoholic drinks, beverages etc.
Other things not mentioned in itinerary.
Entrance fees in National park and hill station fee.
Reviews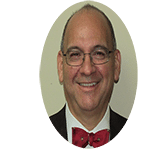 One Week in Nepal With Tour Guide
I recently spent one week in Nepal and Tour Guide Team Trek provided an extraordinary service with an itinerary suited to my needs and interests, including Kathmandu, Chitwan, and Pokhara, detailed cultural and historical explanations when visiting different sites in Kathmandu, and above all, a customer and people-oriented approach to all activities, meals, shopping, etc. Kumar Dahal was my tour guide and it was a pleasure for me to have him showing me his native Nepal. Kumar has excellent English speaking skills and he is willing to take the extra mile to help you have the best trip to this beautiful country. I recommend him and Nepal Tour Guide Team Trek wholeheartedly as the best agency to fulfill your expectations.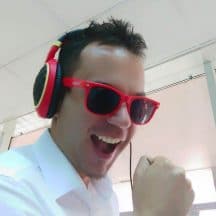 Memorable 4 Days With Tour Guide
My wife and I had the privilege to enjoy a 4 days long private tour with tourguideinnepal.com. Everything was spot on. We had a private driver and a private tour guide for the entire trip, both extremely polite. I can 100% recommend them to others also. I also found their pricing more than fair. Kumar runs the company, he was very helpful when we put together the custom itinerary. Our tour guide was Suvash, probably the most caring guy I've ever met. Thanks for the lifetime experience guys!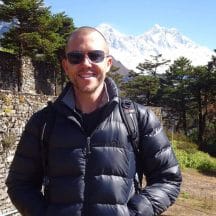 Two Nights Was Awesome
I only had two nights in Kathmandu and primarily wanted to do a chopper flight around Everest as well as see as much of Kathmandu as possible. Kumar was amazing and looked after me like family. I did a lot of research and Kumar booked the Chopper flight for me and answered any and all questions I had leading up to it. The Everest day was truly one of the best and awe inspiring days of my life. Kumar also took us to all of the must see sights in Kathmandu. He listened to our needs as well as read our body language for what we required. You must have a guide in places like Kathmandu to understand the history and not miss anything and you won't regret using Kumar – he is the best!!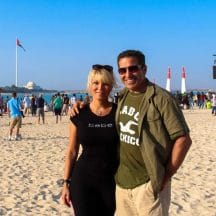 Tom And Heide
18th September, 2018
AMAZING NEPAL EXPERIENCE WITH Nepal Tour Guide Team
We had the privilege exploring KTM valley with Kumar. He has a way of showing you all facets of Nepal as nobody else will. Not only does he know his country like no other, he also has a special way of connecting you with his culture , people, customs and more like a real tour guide can only do. He is a humanitarian, a good spirit, with a great sense of humor and a heart of gold, someone who CARES about his country and people. You will love the way he guides you and shows you his country. Anything from local foods, to extensive history or just small talk about politics and social issues, Kumar is happy to discuss all. He showed us a side of Nepal, we would have never experienced with a larger bus group. He customized our program to our liking, the way we wanted it, patiently answered all of our questions always friendly , attentive and genuine. We can highly recommend Kumar as your private guide. I have traveled the world extensively (please see my other reviews on tripadvisor) and know the difference between 'just a guide' and a true tour director who LOVES his job and connecting with people from all walks of life. Kumar is great in what he does and his personality will make you like him the day you meet. We are still friends and should we return to Nepal, there is no doubt in our minds that we will see him again, not only as our guide but also to reunite with a great friend and human being.
Two Weeks In Nepal
We came to Nepal for just under two weeks in March 2017. My husband and I decided to bring my mom for her 60th birthday as it was her lifelong dream to visit Nepal. But weren't sure what to do while we were there! Luckily, we found Nepal Tour Guide Team, and after a few emails to Kumar, he set up the whole trip for us. Our trip was incredible, and Kumar was wonderful. From Kathmandu to Chitwan, Pokhara and back, Kumar showed us the whole country, and his knowledge was second to none. He arranged all the hotels, the car and driver, the things we did, showed us great places to eat and most importantly, provided great friendship and conversation along the way! We laughed the whole trip and had a wonderful time. The mountains were beautiful, Chitwan was amazing, and the lakeside at Pokhara was definitely my mom's favorite part. We're still positive we had the best tour guide and the most skilled driver in the entire country. Kumar is an incredible person and we made a lifelong friend. Even after coming home, we continue to keep in touch, chatting and making video calls. We can't wait to go back!
Total Cost (USD)
USD
250
/ person
Trip Facts
Best Season

February, March, April, May, September, October, November, December,
Ask An Expert