Langtang Valley Trek - 10 Days
Trip Overview
Langtang Valley Trek was once a part of the Langtang National Park. Otherwise known as the Tamang Heritage Trail, this trek allows you to venture deep into the Tamang hinterland. In this trek, you travel through verdant Tamang villages to immerse yourself in the local indigenous Tamang culture.
The Tamangs trace their roots back to ancient Mongolia and originally made their way into lowlands of Nepal to trade horses. The Tamangs are considered to be one of the oldest tribes of Nepal and the Langtang valley is considered to be one of their first settlements.
Even though Langtang valley can be reached by a day's drive from Kathmandu, this area is still relatively unknown to the majority of travellers because the major trekking destinations of Annapurna, Kanchenjunga and Everest pull in the majority of the crowd.
Langtang Valley Trekking Trail
The starting point of this trek is at Syabru Besi. The trail then ascends up the Langtang valley from just 1,470m at Syabru Besi to 3,870m at Kyanjin Gompa in just a matter of two days.
There is plenty of time to acclimatize, however, as the trail takes you through Khangjim (2235m), Sherpagaun (2563m), Lama Hotel (2340m), Ghodatabela (3030m), Langtang Village (3430m) to finally ending in Kyanjin Gompa.
You can find a few coffee houses in Kyanjin Gompa that boast of proper Italian coffee machines flown in by helicopter. This ancient monastery preserves age old buddhist traditions of the local Tamang people as well as the local Sherpas.
You can venture off the main trail into a secret path that leads you to Parvati Kunda, a hidden lake, whose waters apparently hold powers of fertility. The trail then passes through the pristine landscape of Langtang National Park. You may get a chance to spot then endangered Red Panda or a Himalayan Black Bear in these parts if you are observant. Once you cross the forests, yak pastures and yak-cheese factories are a common site.
The trail then passes through the pristine landscape of Langtang National Park. You may get a chance to spot then endangered Red Panda or a Himalayan Black Bear in these parts if you are observant. Once you cross the forests, yak pastures and yak-cheese factories are a common site.
During the ascent, the landscape changes from lush subtropical forest, large bamboo groves to high alpine pastures which then gradually change to glacier and mountain peaks on the Tibet border. The view from the top are of Manaslu Massif, Ganesh, Langtang and Jugal Himal (Mountain) with the Langtang Mountain dominating majority of this region.
The Langtang Valley trek is relatively short and fairly easy, even with a climb up to the crown jewel at Tserko Ri (5,000m). Tserko Ri offers you a 360 degree view of the whole Langtang valley and if you are lucky, you may even have a chance to spot the ever elusive Snow Leopard.
The Langtang valley was completely destroyed during the 2015 mega-earthquake. The locals have remained resilient, however, and have already built tea shops and lodges.
This trek is all about culture and heritage. The trail runs through quaint villages off the main trekking routes so this you can gain an experience of the ancient lifestyle that is still being preserved.
If you love travelling the off-beaten path then this trek is for you. Ancient Tibetan culture permeate every inch of this expedition. This trail is called the Tamang Heritage Trail for a reason.
Trip Highlight
Sacred Tamang culture permeates through every inch in this uniquely cultural expedition.
"Off-the-beaten-path" hiking experience.
High chance of encountering Grey Langur Monkey troops in the rhododendron forest of Thaman.
Quaint villages of Briddim and Gatlang.
Italian coffee at a height of 3,870m at Kyanjin Gompa.
A chance to spot the endangered Red Panda, Himalayan Black Bear and the elusive Snow Leopard.
Yak pastures and yak cheese factories at Langtang Village.
Itinenary
Price Details
Faqs
Reviews
Itinenary
Arrival in Kathmandu.

Arrive at Tribhuvan International Airport in Kathmandu.
Nepal Tour Guide team will greet you and drop you at your hotel.
Half day visit of major world heritage sites in Kathmandu such as  Royal Kathmandu Durbar Square, Pashupatinath temple, Syambhunath, and Boudhanath stupa.
Prepping for the next day's trek.
Overnight stay at your hotel.

Kathmandu (1400m) – Syabrubesi (1460 m), 8 hours drive

After morning breakfast, you travel via a bus through Trishuli Bazaar, and then Dhunche to Syabrubesi.
Although roads are bumpy and rough, the travel becomes so pleasurable with sights of beautiful landscapes and snow-covered mountains.
You stay at a lodge in Syabrubesi. Make sure you sleep on time as your body is tired of long and enduring bus ride.

Syabrubesi (1460m) – Lama Hotel (2420m), 6 hours trek, 7 miles

As the trek begins, you pass through Bhote Koshi River and follow Langtang River.
After passing through a suspension bridge, you have to walk through Pahiro to reach to Bamboo. The trail then crosses a subtropical forest. Red Panda, Langur monkey, wild boars and various birds inhabit the forest.
The trail then ascends through Rimche to end the day trek at Lama Hotel.

Lama Hotel (2420m) – Langtang Village (3430m)

After morning breakfast, the fifth-day trek begins with a gentle uphill climb.
But, the trail soon becomes steep as you trek further.
As glimpses of beautiful Langtang Lirung and other snow-covered peaks start appearing, your trek becomes more interesting.
You can give your legs a rest and have your lunch in Ghoda Tabela.
As you ascend uphill, you will reach a beautiful valley – Langtang where you will see yaks grazing all over the pastures.
You will spend your fifth night in Langtang Village.

Langtang Village (3430m) – Kyanjin Gompa( 3870m), 2 and a half hours, 4.2 miles

You are already above 3400-meter altitude, so the sixth-day trek is a short one.
The trek begins after morning breakfast. You pass through a Buddhist shrine and trek to Mundu.
After you travel across streams, wooden bridges and moraines, you get a glimpse of Buddhist monastery called Kyanjin Gompa.
The village is named after a Buddhist monastery Kyanjin Gompa which is made up of local woods and stones. There are Buddha images and idols.
You can visit a cheese factory there. You can rest or explore the area after having your lunch. Langtang Lirung, Kyanjin RI, Tsergo RI, Langshisha RI, Yala Peak are some mountain peaks you can see from Kyanjin Gompa.

Acclimatization Day in Kyanjin(3870m)

The seventh day is for rest. As you have climbed to more than 3800 meter altitude, your body needs to adjust to the change in the environment. Also, it is a precaution for altitude sickness.
If you feel comfortable, you can explore Kyanjin as you can visit the monastery, cheese factory, and glaciers.
You can also hike to Tserko RI. From those points, you can see the breathtaking view of Langtang Valley, Langtang Lirung, and some other snow-covered mountain peaks.
Tserko RI stands at an altitude of 5,033 meters which is the highest point of Langtang Valley trek.

Kyanjin Gompa – Lama Hotel, 6 hours, 13.4 miles

You descend more than 1430 meter for around 6 hours trek for overnight stay at Lama Hotel.
As you return through the same trail, you can take a rest in Ghoda Tabela and have lunch. Make sure you enjoy the magnificent view of the snow-covered mountain range while descending down to Lama Hotel – it's a sight to behold.

Lama Hotel(2420m) – Syabrubesi(1460m), 4-5 hours, 6.8 miles

After morning breakfast, you trek downhill through beautiful forests and villages to Syabrubesi.

Syabrubesi – Kathmandu

Drive back to Kathmandu through Pasang Lhamu Highway along the Trishuli riverside. 7 to 8 hours drive will bring you back to Kathmandu.
In the evening, you get to share experiences with your guides or friends with dinner at hotel.
Price Details
Price Includes
Airport pickup & dropoff by Private Car.
Accommodation in Kathmandu in a 3-star category Hotel with Breakfast.
English Speaking Guide as per the itinerary, And a Porter in the Trekking area.
All accommodation in trekking area in local lodges. ( soft comfortable bed with Shared bathroom)
Food, accommodation, salary, equipments, insurance, of guide and porter.
All surface transportation as per the itinerary in Jeep or Scorpio.
Lantang conservation & TIMS permit.
Tourist service charge, Vat.
Office Service charge
1 Night Cultural dinner.
Price Not Includes
Launch, dinner in Kathmandu and meals in trekking area.
Travel insurance
International air fare to and from Nepal.
Nepal Tourist Visa fee.
Personal Expenses.
Any kind of alcoholic drinks, hot water, hot shower, cold drinks, laundry, phone call, internet.
Trekking Equipments (down sleeping bag and down jacket)
Tips for guide, porters, driver (Not mandatory )
Arrangement of emergency helicopter service which will be paid by your travel insurance company.
Other things not mentioned in Cost includes.
Reviews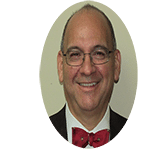 Aristofanes Cedeno
One Week in Nepal With Tour Guide
I recently spent one week in Nepal and Tour Guide Team Trek provided an extraordinary service with an itinerary suited to my needs and interests, including Kathmandu, Chitwan, and Pokhara, detailed cultural and historical explanations when visiting different sites in Kathmandu, and above all, a customer and people-oriented approach to all activities, meals, shopping, etc. Kumar Dahal was my tour guide and it was a pleasure for me to have him showing me his native Nepal. Kumar has excellent English speaking skills and he is willing to take the extra mile to help you have the best trip to this beautiful country. I recommend him and Nepal Tour Guide Team Trek wholeheartedly as the best agency to fulfill your expectations.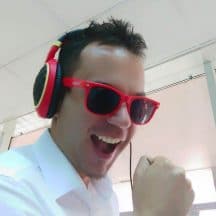 Adam Szucs
Memorable 4 Days With Tour Guide
My wife and I had the privilege to enjoy a 4 days long private tour with tourguideinnepal.com. Everything was spot on. We had a private driver and a private tour guide for the entire trip, both extremely polite. I can 100% recommend them to others also. I also found their pricing more than fair. Kumar runs the company, he was very helpful when we put together the custom itinerary. Our tour guide was Suvash, probably the most caring guy I've ever met. Thanks for the lifetime experience guys!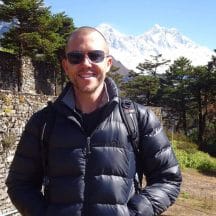 Brad Wegner
Two Nights Was Awesome
I only had two nights in Kathmandu and primarily wanted to do a chopper flight around Everest as well as see as much of Kathmandu as possible. Kumar was amazing and looked after me like family. I did a lot of research and Kumar booked the Chopper flight for me and answered any and all questions I had leading up to it. The Everest day was truly one of the best and awe inspiring days of my life. Kumar also took us to all of the must see sights in Kathmandu. He listened to our needs as well as read our body language for what we required. You must have a guide in places like Kathmandu to understand the history and not miss anything and you won't regret using Kumar – he is the best!!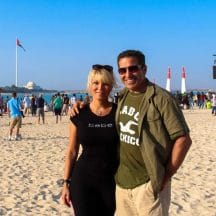 Tom And Heide
18th September, 2018
AMAZING NEPAL EXPERIENCE WITH Nepal Tour Guide Team
We had the privilege exploring KTM valley with Kumar. He has a way of showing you all facets of Nepal as nobody else will. Not only does he know his country like no other, he also has a special way of connecting you with his culture , people, customs and more like a real tour guide can only do. He is a humanitarian, a good spirit, with a great sense of humor and a heart of gold, someone who CARES about his country and people. You will love the way he guides you and shows you his country. Anything from local foods, to extensive history or just small talk about politics and social issues, Kumar is happy to discuss all. He showed us a side of Nepal, we would have never experienced with a larger bus group. He customized our program to our liking, the way we wanted it, patiently answered all of our questions always friendly , attentive and genuine. We can highly recommend Kumar as your private guide. I have traveled the world extensively (please see my other reviews on tripadvisor) and know the difference between 'just a guide' and a true tour director who LOVES his job and connecting with people from all walks of life. Kumar is great in what he does and his personality will make you like him the day you meet. We are still friends and should we return to Nepal, there is no doubt in our minds that we will see him again, not only as our guide but also to reunite with a great friend and human being.
Two Weeks In Nepal
We came to Nepal for just under two weeks in March 2017. My husband and I decided to bring my mom for her 60th birthday as it was her lifelong dream to visit Nepal. But weren't sure what to do while we were there! Luckily, we found Nepal Tour Guide Team, and after a few emails to Kumar, he set up the whole trip for us. Our trip was incredible, and Kumar was wonderful. From Kathmandu to Chitwan, Pokhara and back, Kumar showed us the whole country, and his knowledge was second to none. He arranged all the hotels, the car and driver, the things we did, showed us great places to eat and most importantly, provided great friendship and conversation along the way! We laughed the whole trip and had a wonderful time. The mountains were beautiful, Chitwan was amazing, and the lakeside at Pokhara was definitely my mom's favorite part. We're still positive we had the best tour guide and the most skilled driver in the entire country. Kumar is an incredible person and we made a lifelong friend. Even after coming home, we continue to keep in touch, chatting and making video calls. We can't wait to go back!
Total Cost (USD)
USD
799
/ person
Trip Facts
Trip Style

Private / Group

Accomodation

Hotel, Tea house
Ask An Expert