Upper Mustang Trek - 18 Days
Trip Overview
The district of Mustang was once an independent kingdom. Until the early 1950s, it was closely tied to Tibet in terms of culture. The people here remained isolated from Nepal from hundreds of years and even to this day, the true mountain folks of Upper Mustang still retain their Tibetan language and heritage. Explore the lost hidden kingdom on Upper Mustang Trek.
History – King's Rule
The king of Mustang enjoyed titular kingship till 2008 when Nepal was declared a republic in the wake of a massive political shift in Nepal. The king was still allowed to hold the title of king, along with petty kings in the former states of Bajhang, Salyan and Jajarkot. Mustang's capital is Lo Manthang and is still home to the last raja of Mustang.
Tiji Festival 2020 – A Cultural Event
Tiji Festival is the famous Tibetan cultural annual event held in May. Experience the mystic culture of Lo-Manthang in 19, 20 and 21 may 2020.
It is because of the regions recent addition to Nepal and a long history of isolation, Upper Mustang still retains its culture and virgin natural beauty.
The population of Mustang, based on the 2001 consensus, was roughly 14,981 distributed over three larger towns. Scattered throughout the barren district are also some 30 or so smaller settlements. The inhabitants of this region are primarily Gurungs and Thakalis, while some boast a purely Tibetan lineage.
Geography
Mustang was located on a very strategic trade point between India and Tibet and hence this region saw a thriving population. The trekking route that is used today is still the same route that was used during the trade since the 15th century.
Although, this region became a part of Nepal from the 1950s, it was only opened to foreigners until as recent as early 2000s. Access is still restricted, however, as travelling further than Kagbeni would require special trekking permits and travellers to be accompanied by a government official.
Explore the Historic Mountain Caves
The most alluring attraction of Upper Mustang are the Mustang caves or Sky Caves, so called because of hundreds of man-made caves carved into the sides of the cliffs. There are said to be about 10,000 caves in this region. Exploration of these caves have led to the discovery of various Buddhist artifacts, some dating back to the 12th century even. The collected artifacts are Buddhist paintings, sculptures and manuscripts. These along with a 55 panel depiction of Buddha's life make the Mustang Sky Caves, one of the world's greatest archeological mysteries.
Trek Difficulty
Upper Mustang Trek is particularly not a difficult one with the highest point reaching only 3,800m but the conditions can be harsh. During the winters, most of the population migrate to lower regions of Nepal due to the harsh conditions, so winter treks are best avoided. The summer months and also the monsoon time is the preferred season for travel.
Best for Monsoon Trekking
Since Upper Mustang lies in the rain shadow region of the Himalayas, this place receives scarce rain. This trek generally requires a minimum of 14 days and fairly easy walk through the Kali Gandaki valley with occasional climbs above the valley walls. There is little that grows in the desert of Upper Mustang, but it's arduous conditions test the travellers' grit and make them a tougher individual. Here, the journey is the part of the experience, something you will realize when your grit is tested by the harsh cold Mustang winds.
Trip Highlight
Jomsom bazaar- Located at an altitude of 2800 meters, Jomsom bazaar stretch over the river bank of kali Gandaki.It is famous for its local market and apples.
Packed mud and brick houses, dark alleys and chortens of the quaint Kagbeni village.
The deepest gorge in the world that is the Kali Gandaki Gorge.
Lo-Manthang is the ultimate highlight of this trek. This used to be the capital of the former Mustang kingdom that now has numerous chortens and monasteries. Several smaller villages scattered in the region also is the highlight.
The 12th century Mustang Sky Caves still conjure up mysterious allure to every travellers that visit.
Itinenary
Price Details
Faqs
Reviews
Itinenary
Arrival in Kathmandu

Arrive at Tribhuvan International Airport in Kathmandu.
Nepal Tour Guide team will greet you and drop you at your hotel.
Half day visit of major world heritage sites in Kathmandu such as  Royal Kathmandu Durbar Square, Pashupatinath temple, Syambhunath, and Boudhanath stupa.
Preparing for the next day's trek.
Overnight stay at your hotel.

Flight Kathmandu - Pokhara or drive 6-7 hrs.

Breakfast at your hotel in Kathmandu.

We take an early flight from Kathmandu to Pokhara then drive to Pokhara Airport for 25 min flight to Jomsom.

Jomsom is the district headquarter of Mustang.

The short 20 minutes flight has great views on clear days.

Close view of both Dhaulagiri and Annapurna from the flight is spectacular.

Jomsom is where your actual trek begins.

Overnight at a local guesthouse.

Pokhara to Jomsom (2725m)- Kagbeni (2810m)

Breakfast at Pokhara.

On this day we will fly to Jomsom 20 min flight and 4 hrs of walk.

From flight we can clearly see snowcapped mountain of Dhaulagiri and Annapurna range.

After landing we will trek towards Kagbeni.

Overnight at Kagbeni.

Kagbeni (2810 m) - Chele (3050 m) 6 hrs

The trek continues towards the east bank of the Kali Gandaki through many ridges and reach north to the Tangbe village. The picturesque Tangbe village is a labyrinth of narrow alleys amid white-washed mud and stone houses.

From here, you continue your 2 hr hike to Chhusang village. After crossing the dwindling waters of Kali Gandaki, you climb up the huge red mass of Conglomerate.

After crossing the Kali Gandaki Valley, you continue your uphill climb to Tiche Chele.

The culture transitions from Manangi culture in Jomsom, Kagbeni and proceeding to Tibetan culture.

Overnight at Chele.

 

Chele (3050 m) - Syangbochen (3800 m) 7-8 hrs

The trek goes along a steep barren land, alongside the copper red canyon. The copper red landscape makes Mustang unique.

Hike down to the beautiful village Samar and stop for lunch.

After a final descent, you will reach Syangboche. Here, almost all the tea houses look similar  to each other with their whitewashed walls and wood stacked neatly around the perimeter of the roof.

Syangbochen (3800 m) – Ghami (3560 m) 7 hrs

On the outskirts of Ghami, you will pass one of the longest many walls of Mustang.

You will also pass a group of chortens on the way out.

After this, you make your way uphill over a pass at an altitude of 3,820m. From here Mustang looks like a desert with barren hills.

And we enter in the valley.

Overnight at Ghami.

Trek to Charang (3560m) Via Ghar Gompa (3950m)

Breakfast at Ghami.

On this day our trail will ahead towards Charang.

The red-painted Charang stupa welcomes you to Charang.

Further below is the palace and monastery of Tsarang.

A broad pathway leads you to the 2nd largest village of Mustang, 'Charang'. Charang was the capital of Mustang before Lo-Manthang.

In this trek Ghar Gompa also a another adorable place.

Overnight at Charang.

 

Trek to Lo-Manthang (3810m)

You trek to Lo-Manthang. It is one of the major highlights of any Upper Mustang Trek.

You start your trek via Tsering Thupten Shedrub Dhargyeling Monastery.

From here, you pass the Cherang river which separates Cherang and Lo. After crossing the pass Lo, you will reach Lo-Manthang.

Lo Manthang was the capital city of the forbidden kingdom of Mustang. It still houses King's impressive palace. The descendants of the kings still reside here.

Once here, you can rest and hire horses on lease to explore the beautiful valley.     

Overnight at Lo-Manthang.

 

Lo Manthang (3800 m). Rest day and explore heritage sites.

This beautiful mystical town of Lo-Manthang has a lot to offer. Some of the must-visit places is the five storey palace of the Mustang King.

Namgyal Gompa: Situated on a hilltop, it holds social, religious and legal importance.

Tigkar village.

Jampa Lhakhang: Houses a large Buddha statue and walls painted with intricate Mandalas.

You can explore Nyphu Cave monastery.

You can also explore Jhong Sky cave. The 2500 yr old cave has more than 44 compartments.

 

Rest Day

On this day we will do rest because it will be difficult if we continue the trek.

For our Physical health we need to take rest.

Trek to Yara (3650m) 6-7hrs

Breakfast at Lo-Manthang.

On this day after finishing our rest days. We will start our trek towards Yara.

On this way we can see interesting valleys and one of the best village. DI village is way with descends.

Overnight at Yara.

Trek to Tangye (3240m) 4-5 hrs of walk

Breakfast at Yara.

On this day our trek will continues by crossing forest and rivers. This walk will take you to the small village Tangye. Where we can see only 30 houses.

Overnight at Tangye.

Trek to Tetang/Chossang (2980m)

Breakfast at Tangye.

On this our trail we will cross the hills and get in the Tetang village.

Tetang village found between 2 hills. This trek will go along Kaligandaki.

Overnight at Tetang.

Trek to Kagbeni (2810m) 4-5hrs

Breakfast at Tetang.

On this day we will trek back to Kagbeni.

Overnight at Kagbeni.

Trek to Jomsom

Trek to Jomsom

You continue tracing your way back to the village of Jharkot.

You can explore Jharkot Monastery, Tibetan Herbal Medicine Center and ancient fortress.

You can feast on the delicious Mustang apple and witness the local culture.

Overnight in Jomsom. The night before your flight back to Pokhara, there is usually some grand feasting and dancing with fellow travellers and locals.

Fly to Pokhara.

You catch an early morning flight to Pokhara.

In Pokhara, you can choose to spend the rest of the day by booking a massage, bicycle ride around the city, boating , or just slumbering in your hotel room. You deserved it.

 

Drive Back to Kathmandu.

Breakfast then a bus or private car back to Kathmandu.

In Kathmandu, you can choose to go souvenir shopping for your family and friends back home or just relax.

Final Departure

Our representative will take you to the airport and will assist you with procedures there.

Farewell.
Price Details
Price Includes
Airport Pick Up & Drop in a private Car.
All Ground Transportation as per above itinerary.
Accommodation on local lodges in the Trekking area.
2 night's accommodation in Kathmandu in a 3-star category hotel with breakfast
2 Night accommodation in Pokhara in a 2-star category hotel with breakfast
Experienced English Speaking Guide.
All Government local Taxes
Annapurna conservation fees
(TIMS)Trekkers information Management System
Flight ticket (Pokhara-Jomsom-Pokhara).
ACAP Permit for entry in Manaslu.
Farewell Dinner with typical Nepali culture
First Aid Kit.
Price Not Includes
Trekking equipments
Any type of personal expenses such as Alcoholic Beverage drinks,phone and Laundry.
Tips (Not mandatory)
Lunch and dinner during the trip
Meals in trekking area.
Arrangement of emergency helicopter service which will be paid by your travel insurance company.
items not included in cost includes.
Porter in Trekking area.
Reviews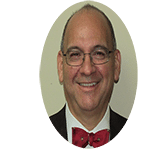 One Week in Nepal With Tour Guide
I recently spent one week in Nepal and Tour Guide Team Trek provided an extraordinary service with an itinerary suited to my needs and interests, including Kathmandu, Chitwan, and Pokhara, detailed cultural and historical explanations when visiting different sites in Kathmandu, and above all, a customer and people-oriented approach to all activities, meals, shopping, etc. Kumar Dahal was my tour guide and it was a pleasure for me to have him showing me his native Nepal. Kumar has excellent English speaking skills and he is willing to take the extra mile to help you have the best trip to this beautiful country. I recommend him and Nepal Tour Guide Team Trek wholeheartedly as the best agency to fulfill your expectations.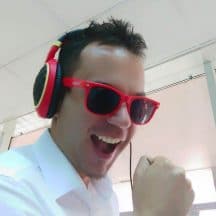 Memorable 4 Days With Tour Guide
My wife and I had the privilege to enjoy a 4 days long private tour with tourguideinnepal.com. Everything was spot on. We had a private driver and a private tour guide for the entire trip, both extremely polite. I can 100% recommend them to others also. I also found their pricing more than fair. Kumar runs the company, he was very helpful when we put together the custom itinerary. Our tour guide was Suvash, probably the most caring guy I've ever met. Thanks for the lifetime experience guys!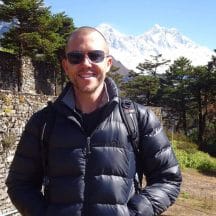 Two Nights Was Awesome
I only had two nights in Kathmandu and primarily wanted to do a chopper flight around Everest as well as see as much of Kathmandu as possible. Kumar was amazing and looked after me like family. I did a lot of research and Kumar booked the Chopper flight for me and answered any and all questions I had leading up to it. The Everest day was truly one of the best and awe inspiring days of my life. Kumar also took us to all of the must see sights in Kathmandu. He listened to our needs as well as read our body language for what we required. You must have a guide in places like Kathmandu to understand the history and not miss anything and you won't regret using Kumar – he is the best!!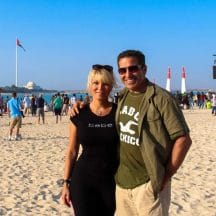 Tom And Heide
18th September, 2018
AMAZING NEPAL EXPERIENCE WITH Nepal Tour Guide Team
We had the privilege exploring KTM valley with Kumar. He has a way of showing you all facets of Nepal as nobody else will. Not only does he know his country like no other, he also has a special way of connecting you with his culture , people, customs and more like a real tour guide can only do. He is a humanitarian, a good spirit, with a great sense of humor and a heart of gold, someone who CARES about his country and people. You will love the way he guides you and shows you his country. Anything from local foods, to extensive history or just small talk about politics and social issues, Kumar is happy to discuss all. He showed us a side of Nepal, we would have never experienced with a larger bus group. He customized our program to our liking, the way we wanted it, patiently answered all of our questions always friendly , attentive and genuine. We can highly recommend Kumar as your private guide. I have traveled the world extensively (please see my other reviews on tripadvisor) and know the difference between 'just a guide' and a true tour director who LOVES his job and connecting with people from all walks of life. Kumar is great in what he does and his personality will make you like him the day you meet. We are still friends and should we return to Nepal, there is no doubt in our minds that we will see him again, not only as our guide but also to reunite with a great friend and human being.
Two Weeks In Nepal
We came to Nepal for just under two weeks in March 2017. My husband and I decided to bring my mom for her 60th birthday as it was her lifelong dream to visit Nepal. But weren't sure what to do while we were there! Luckily, we found Nepal Tour Guide Team, and after a few emails to Kumar, he set up the whole trip for us. Our trip was incredible, and Kumar was wonderful. From Kathmandu to Chitwan, Pokhara and back, Kumar showed us the whole country, and his knowledge was second to none. He arranged all the hotels, the car and driver, the things we did, showed us great places to eat and most importantly, provided great friendship and conversation along the way! We laughed the whole trip and had a wonderful time. The mountains were beautiful, Chitwan was amazing, and the lakeside at Pokhara was definitely my mom's favorite part. We're still positive we had the best tour guide and the most skilled driver in the entire country. Kumar is an incredible person and we made a lifelong friend. Even after coming home, we continue to keep in touch, chatting and making video calls. We can't wait to go back!
Total Cost (USD)
USD
1849
/ person
Trip Facts
Trip Style

Private / Group
Ask An Expert