Coronavirus in Nepal – 2021 Update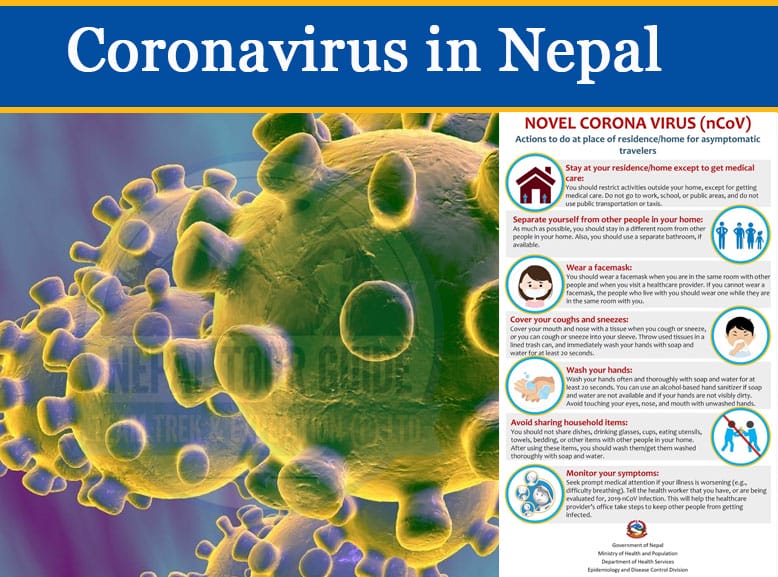 Covid-19 Status Update
Nepal has resumed on arrival visa and fully vaccinated travelers do not have to Quarantine upon arrival in Nepal. This is the updated entry protocol for international travelers except Indians published on October 04, 2021.
You must be fully vaccinated at least 14 days before you travel to Nepal. Excited!!! yes start planning your favorite trips in Nepal and experience the various activities.
What is Corona Virus?
Coronavirus is a type of virus that affects the respiratory tracts of birds and mammals. These viruses are associated with common cold, cough, bronchitis, pneumonia and severe acute respiratory syndrome.
The authorities recently identified a new corona virus in Wuhan city of China. This virus was named as COVID-19 that outbreak throughout the world.
Symptoms
Symptoms of Coronavirus can be vary from person to person. Sometimes, it can be severe illness and may be fatal. Here are the common symptoms of COVID-19 virus.
Fever above 104 Fahrenheit
Cough
Breathlessness
Sore Throat
There is no cure and treatments of the coronavirus till date. Only we can do is get prevented from the virus. Here are some prevention tips for you to be safe from Coronavirus COVID-19.
Prevention Tips for Corona Virus
Clean hands with soap and water or alcohol-based hand rub
Cover nose and mouth when coughing and sneezing with tissue or flexed elbow
Avoid close contact with anyone with cold or flu-like symptoms
Avoid touching eyes, nose and mouth
If you see any symptoms, seek medical care immediately
Risk Groups
Young children, people aged 65 years and above and pregnant women have the highest risk of COVID-19 virus.
The status of Coronavirus COVID-18 in Nepal
Till today, 5 case has been confirmed in Nepal. Nepal Government assured that all the appropriate measures has been alert for the facilities and precautions during the crisis. Nepal has suspended the on arrival visa for the travelers from the infected countries and areas. Nepal Government has been applied lockdown rule over the nation.
| | | |
| --- | --- | --- |
| Confirmed Cases | Recovered | Deaths |
| 24,957 | 16,837 | 95 |
Hundreds of trekkers stranded on Nepal's mountain trails after coronavirus lockdown
Hundreds of trekkers are stranded on different trekking trails across the country. Nepal Government imposed lockdown in the country from 23rd March 2020. According to Nepal Tourism Board, about 500 foreign tourists had been stranded on the trekking routes. Nepal rescued hundreds of trekkers from the trekking routes and coordinate with the embassies to fly them back to home.
Is Nepal safe to travel?
The coronavirus first detected in wuhan, China and Neal has open border with it. Despite the fact of highly infected people in china, Nepal has 1 confirmed cases till date. This fact shows that Nepal is still safe to travel.
The Government of Nepal is doing all the measurements to prevent coronavirus from entering in the nation and the preparation has been made hardly.
Nepal recently suspended the on-arrival visa for many countries and set up health desk at Tribhuvan International Airport and border checkpoints.
The Government also has managed the hospitals in Nepal to be careful about coronavirus infected people and managed an isolation bed for suspected patient.
The awareness program has been done all over the nation through the press release, online, TVs and radios. The medical personnel has been trained to cure for the victims.
What the Government has done to protect from Coronavirus in Nepal
All flights to Nepal coming via China is now suspended
Nepal-China entry border via Land currently suspended
Upon the arrival gate of the international terminal liquid sanitizer agent spray are present to destroy COVID-19.
The only international airport in Kathmandu (TIA) uses the thermal scanner plush the thermal gun to measure the body temperature of each arriving passenger.
For those who is traveling to Nepal from 5 of the country (China, Japan, South Korea, Iran, and Italy) which has a high
er number of COVID-19 infection visa on arrival for them has suspended.
All international entry point has screening centers and medical team to provide support.
Nepal government and The National Public Health department recently extend Laboratory to each private hospital to test coronavirus suspect patients.
The government is making sure all private hospital, to have ventilator supported ICUs, doctors, and nurses to be on standby.
Nepal Tourism Year 2020 and affect of Corona Virus
The Ministry of Culture, Tourism and Civil Aviation (MoCTCA) officially announced the "Visit Nepal 2020" in 1st January to attract 2 millions travelers in Nepal throughout the world. Different promotional activities was on the way to promote Visit Nepal Year 2020 which has lead to positive results. But, after few months later the campaign was officially announced, the world is suffering with the Wuhan coronavirus. So, the current situation has affect the Nepal tourism. There are less travelers visiting Nepal in the second main tourism season – Spring season.