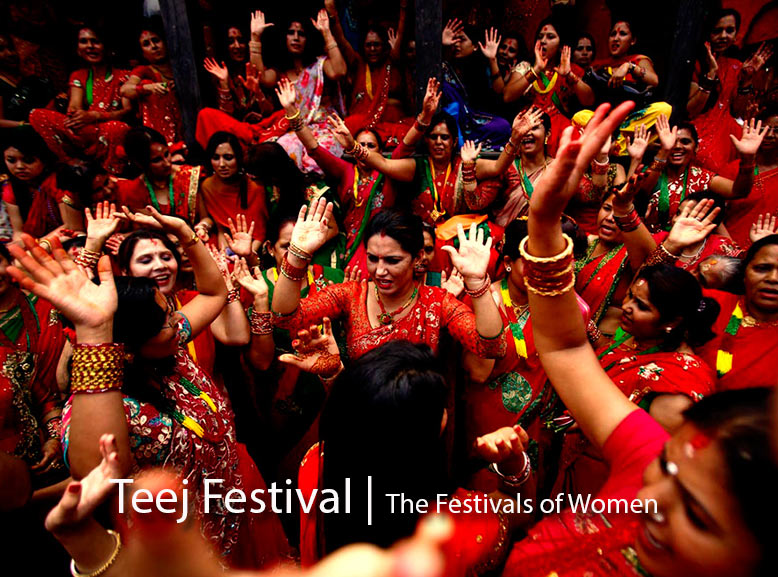 When is Teej Festival in Nepal? Bhadra 2080
Teej Festival Date : Ashoj 01, 2080 according to Nepali calendar, On 18th September according to Georgian calendar. On sukla paksha (according to Nepali lunar calendar). हरितालिका तीज व्रत
What is Teej Festival?
The festival which gathered all Hindu women together is Teej. Teej is celebrated by unmarried girls and married women. Girls keep fasting for lord Shiva because they dream of marrying bridegroom like lord Shiva and married women keep fasting for their husband long life, good health and for their long term relationship. It is said that Goddess parbati kept fasting for lord to make him impress and marry him.
She kept fasting without drinking a drop of water in forest alone. She gathered all the stuffs which are needed for puja. Teej is a festival celebrated by all hindu women.  In all the region we can see the festival is celebrated by all the category people rich poor and everyone. Before Teej Nepalese women go to marital house. It is said that the food before the night of Teej should be made by their marital house they celebrated by dancing with relatives.
How Teej festival is celebrated?
First Day of Teej: Dar Khane Din
On this day every women gathered in evening time and they join the need stuffs for teej and in night they cook delicious food it is specially for fast keeping women and girls the food.We call it as Dar which is made of pure things they cook foods like sel roti, puri, desert, porridge and some of communities people eat non vegetarian food like mutton and chicken.
Second Day of Teej: Fasting Day
This is main day we celebrate Teej on this day by wearing pure new outfits with all red color. Nepalese women take bath in early morning and they go temple Pashupatinath they offer flower, coins, and sweets. On this day some keep puja in their home they burn diyo they collect 108 diyo bath and many more thing that are include in puja. In this day the giving the diyo teej by her mother law to the married woman.
Third Day of Teej: Rishi Panchami Puja
On this early morning take bath and clean the messed up puja stuff. They cook meal which should be pure.
After finishing the previous puja. On this day it is said every women god for forgiving them for all their sins. They used red mud found on the roots of the of the Datiwan bush, a long the leaves from this they become pure from soul and body.
Nepal Tour Guide Team offers you to view  the Nepalese women culture and tradition how they celebrated Teej from children to Elder person they dance and sing without drinking water and they make more fun in this festival. In this festival we can see the unity of the Nepalese people. In every corner of Nepal you can view people celebrating teej in streets home and many huge places both husband and wife take part in such program were they dance and eat delicious food. Teej festival which keep every person near to you.
Teej Festival 2080 Amid Virus Fears
The coronavirus has been adversely affected the lifestyle of people around the globe. Nepal has been lockdown since March 24th to control the spread of the virus. Currently, the lockdown is over and out but some places throughout the nation have been accursed curfew.
The spread of virus is increasing in Nepal day by day and the graph is high. During this adverse time, Government has requested not to celebrate the Teej festival in social gatherings. It is wise to celebrate the festival with social distancing.
Frequently Asked Questions
When is Teej Festival in Nepal celebrated?
Teej in Nepal is celebrated on Bhadra Sukla Paksha.