Trekking in Nepal in July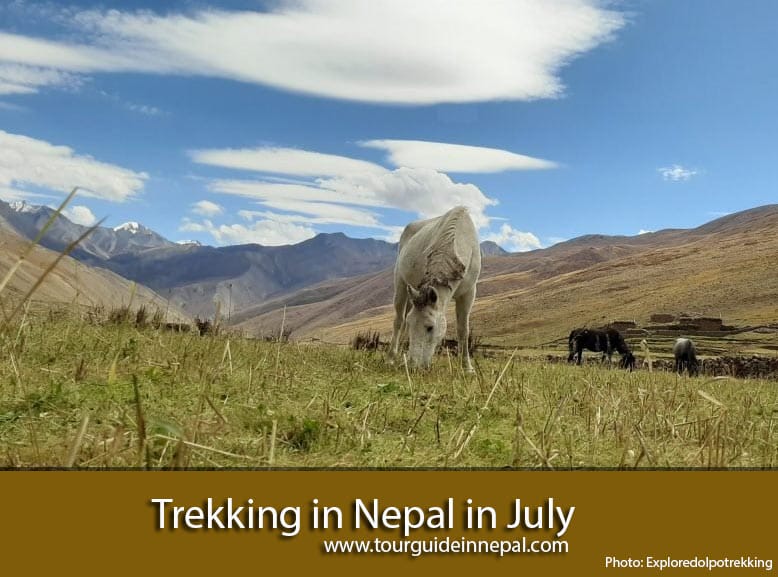 Overview
Is trekking in Nepal in July possible? This could be the question that in your mind arises. The answer is yes. Hiking in Nepal in July is possible to rain-shadow areas of Nepal.
Most of the people do not prefer trekking during July in Nepal for weather and views. The popular trekking trails including Everest Base Camp, Annapurna Base Camp, Annapurna Circuit and Manaslu are less crowded.
The tea houses on the trekking trails are open for business. But, the trails are not suitable for hiking because of wet trails, slippery roads and cloudy weather.
You can experience an amazing cultural and natural insights in rain-shadow areas, Kathmandu and Pokhara. Witness some cultural events in Kathmandu and hike the hills when it's wet out.
Explore the greenery paddy fields and agricultural works during hiking. Experience the cool weather and fresh air in the Himalayas during monsoon season.
Best Trekking Trails during July in Nepal
Upper Mustang, Dolpo region, Annapurna conservation area are the rain-shadow areas of Nepal where you can undertake trekking. So, trekking to these places are best during monsoon season. But, this doesn't mean you can't trek to other trails. You can visit the popular trekking trails with caution and right trekking equipments.
Festivals to witness during July in Nepal
There are few cultural events and festivals that you shouldn't miss while you are in Nepal in July. Yartung horse racing festival held in Mustang in July. The Kathmandu Kora Cycliing Challenge also held in July to cycle the Kathmandu valley.
Some Frequently Asked Questions
Is July a good time for trekking in Nepal?
July is not the ideal month for trekking in Nepal. But, it is possible for trekking to rain-shadow areas like Upper Mustang, Upper Dolpo, Nar Phu Valley and Annapurna Circuit.
What is the weather like in Nepal in July?
The weather in July depends upon the altitudes you hike. At lower altitudes there is average temperature of 24 degree centigrade whereas it lowers to 10 degree centigrade at higher altitudes.
Conclusion
July might not be right time for trekking but you can find the excellent experience on other tourism activities. Tour around the Kathmandu valley with the glimpses of culture and festivals, wildlife experience in Chitwan National Park, Pokhara lake view, agricultural events and homestay trekking in Annapurna might be good option.