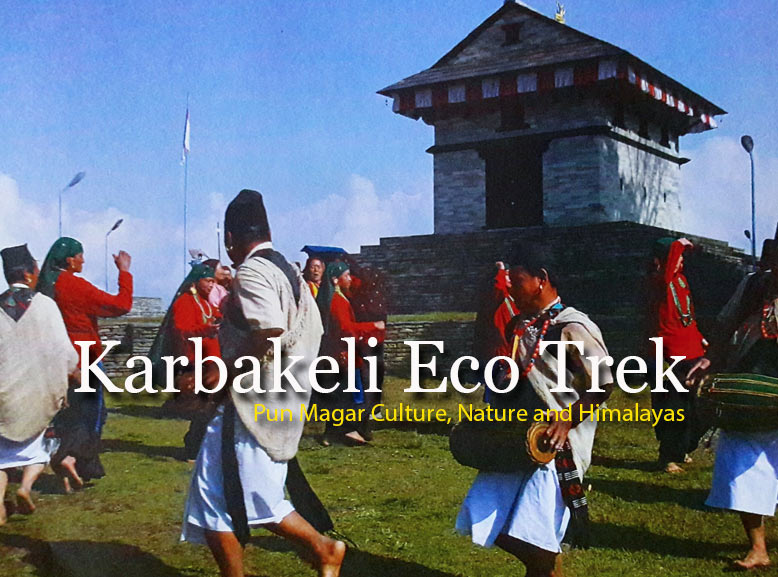 Karbakeli eco trek is recently opened hiking trail in Annapurna region on 18th May 2018. The trekking route was launched by the Karbakeli Tourism Management Committee to promote the tourism in Kafaldanda.
This eco trek has been developed as the best view point of the Himalayas alternative to Mohare danda and Poon Hill. This trekking is best for Annapurna mountain ranges, Dhaulagiri, Nilgiri, Tukuche Peak views along with ethnic Pun Magar culture.
The main attraction of the trek is hiking to Karbakeli Than at Kafal Danda. Karbakeli Baba is the main chief god of Pun Magar community whose temple resides at Kafaldanda. Inside the temple, there are statues of baba along with his wives and sons. The temple is resided at an altitude of 2332m from sea level.
Along with the religious hiking, trekkers will experience the iconic views of nature, Himalayas and dense alpine forests. The bio-diversity, abundance of flora and fauna and ethnic community culture makes this trek beautiful.
Karbakeli Eco Trek Itinerary
The standard itinerary for Karbakeli eco trek is one week i.e. 7 days. The trip starts from the Pokhara to Birethanti, Ulleri, Ghorepani, Poon Hill, Pulbari, Karbakeli, Nagi, Falamedanda, Beni and ends to Pokhara.
Best time to trek Karbakeli Eco Trek
The best time to trek karbakeli is Autumn and Spring. During these months, the weather is good to view the mountains and surrounding. Autumn season is festival season in Nepal so you will have opportunity to explore the ethnic culture and history during your trek. Moreover, you will explore the scenic trekking route, villages, valley and alpine jungles. Spring season is best for blossom of wild flowers like rhododendron and the environment becomes colorful everywhere.
Frequently Asked Questions
When is the best time to hike Karbakeli Eco Trek?
Autumn and Spring seasons are the best time for trekking to Karbakeli.