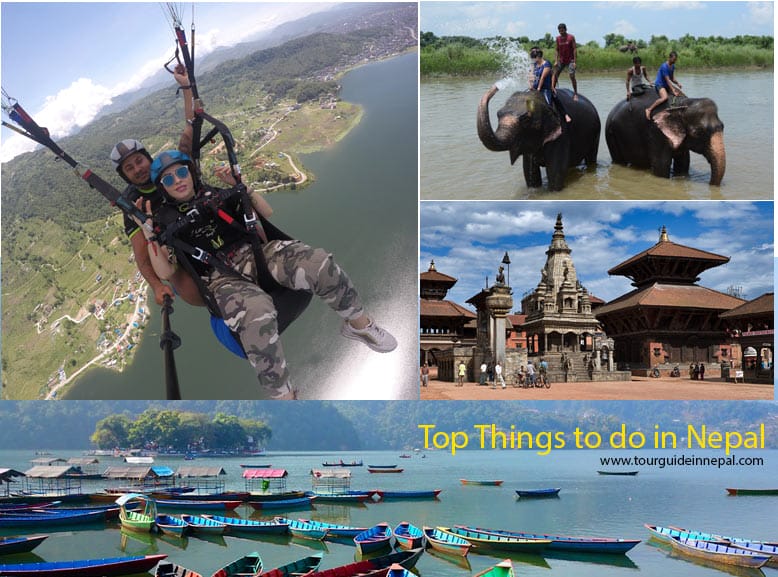 People love to travel to new places. Travelling is a fun as well as knowledgeable activity. Everyone would rarely miss a chance to travel if they got the opportunity. Most people also would like to travel to places which their friends or families recommend. Thus, we have also got a huge recommendation for you to visit if you ever get a chance. We are talking about this beautiful country named Nepal.
Located in the lap of Himalayas, this small piece of land has its huge diversity in geography as well as ethnicity. Varying from the hotter and plain surfaces to the icy cold mountains, you'll get to see the incredible diversity. Famous for its long history there's also a lot more to offer regarding the historical values of this nation. There are a lot of heritage sites also enlisted in the UNESCO list of World heritages.
Apart from the sightseeing of these places inside the Kathmandu Valley awaits the mesmerizing natural beauty and the adventure. Trekking in the Himalayas are mostly sorted out by majority of the tourists however a tour to the hilly region of the country is equally favorite amongst internal as well as external visitors.
Not to forget the city of Lakes, Pokhara or the nearby countryside place called Nagarkot or the birthplace of Lord Buddha. Nepal has many more to offer for all kinds of traveler. We hope you'd not want to miss the following popular attractions when you are in the beautiful paradise.
Jungle safari
Jungle safari is an adventurous activity in which you, will get chance to involve in elephant ride and jeep ride to explore the Chitwan National park. We will be Boating or Canoe ride in the Rapti river. Rapti river is where you can see rare crocodile.
You can also get chance to the National Park and see Roya Bengal tiger, deer, wild boar etc.Elephant or Jeep safari through the Jungle of Chitwan National park where you can see deers, monkeys, wild boars, bisons and even endangered species like Royal Bengal tiger. Elephant Bathing program at breeding centers. This activity is available mostly in summer time. Exploring the national park. You can find many different flora and fauna here.
Sunrise view from Nagarkot
we all love nature beauty. To remove frustration from our mind we need some space. Where we can spend peaceful moment with our loved one. Nagarkot is best place to visit. If you come Nepal don't miss this beautiful place which will make you feel like you are in village. We can enjoy village life here. Early morning sunrise view from hill station with dramatic Himalayas. When the sun rays fall in Himalayas it turns into golden peak. You should visit this place and get adventure.
Paragliding
We like to feel breeze from high like flying birds. To feel the same way, we provide you paragliding to do. Paragliding which will make you feel like you are flying like birds in high sky. The fly will be for half an hour then you will be got down from there. In visit of Nepal don't miss to do paragliding. Paragliding is mostly done in Pokhara. Which is beautiful city of Nepal.
Bungee Jumping
Bungee which is thrilling activity which is done over the fast-flowing rivers in Nepal. In this jump you will feel the free fall at 150 per kilometer per hour. It is safe with well trained and provides a long elastic rope to tie visitor leg. This activity will be most thrilling. If you want feel the thrill don't miss to do bungee jump in Nepal. Bungee is done in two places of Nepal in Hemja and Bhotekoshi.
River Rafting
Nepal is known as second richest in water resources after Brazil. We are blessed with fast flowing river here. In these fast flowing rivers we can do rafting. Trishuli river is popular and nearby location for rafting. You will get chance to take adventure here with thrill. Rivers like Bhote koshi, Trisuli river, Sun koshi river, Kali Gandaki river, Karnali river, Seti river and Marsyangdi river are most famous for rafting. These are fast flowing rivers to do rafting and feel the thrill.
Cultural Sightseeing in Kathmandu.
When we visit Nepal. We visit places like cultural sites in Kathmandu valley which are enlisted in UNESCO world heritage sites. In these places you can see the culture and tradition. We can also see ancient sculpture on the walls of temples they have their own stories. The kingdom of Nepal has huge history and it is said that palace in Kathmandu valley was built by ancient people with beautiful design.
Sightseeing in Kathmandu like Pashupatinath temple which is Hindus ancient temple. Thousands of pilgrims come here to visit on the month of July. And it is also more pilgrims in Maha shivratri. We will also visit Buddhist Piligrims places like Swoyambhunath and Bouddhanath stupa. This the place where you will find both Hindu and Buddhist culture people.
Beauty of Pokhara and Sarangkot
Pokhara and Sarangkot are most beautiful destination to explore the natural beauty. In Pokhara we can do boating in Phewa lake and meanwhile visit a hindu pilgrimage of goddess Barahi which is located in the middle of the beautiful lake. Cycling near lake side. We can explore caves here like Mahendra cave, Chamayra (bat) cave, Gupteswor cave and Davis fall.
Visit Bhindhyabasini temple, Seti Gorge and mountaineering museum. In Sarangkot we can enjoy view point from here and do paragliding. We can do activities like Zipflyer, skydiving, Ultralight flights, cycling and hiking in these beautiful places. We can explore the beauty of Pokhara and Saranglot this place is like heaven.
Birth place of lord Buddha
Nepal is birth place of lord Buddha. Lord Buddha is known as light of Asia. Lumbini is where lord was born. You can visit Maya devi temple and 30 monasteries here which are built by different countries like Japan, China, Germany, France and Sri Lanka.
Buddhist pilgrims come to visit birth place of lord Buddha. We can see ancient stuffs in museum. In this place you will be more familiar with Buddhist religion.
Authentic culture dinner
Every people like to taste new cuisines when they travel to new places. If you are thinking to taste something different. We can do authentic culture dinner program in Kathmandu in which you can enjoy different items of Nepal food with live music program. We can have different item foods like Newari khana, Thakali and many more. You will enjoy the moment.
Rickshaw ride in Thamel
Rickshaw ride in Thamel is most famous. Every tourist does this ride to explore the Thamel area. You can see different country people here. This ride will take you to the place in Thamel.
Frequently Asked Questions
What should I do in Nepal?
There are plenty of acitivities to do in Nepal. It's upon you, what you choose. If you are looking for cultural experiences, you can visit Kathmandu and surrounding, Bandipur, Gorkha, Tansen Palpa, Lumbini, Chitwan, Panauti and Nuwakot.

Adventure ethusiasts may find the adventure activities like Trekking, Hiking, Peak Climbing, Bungee Jumping, Paragliding, Mountain rock climbing, Mountain Flight, Zip-flyer, Jungle Safari.
More to know, you can do volunteering, join cooking classes, meditation and yoga classes, live in a homestay and involve in festivals.
What are other things to do in Nepal besides trekking?
There are much more things to do in Nepal that aren't trekking. As we listed above, you can choose one of them.
What should I buy in Nepal?
It's upon you what to buy as souvenirs.