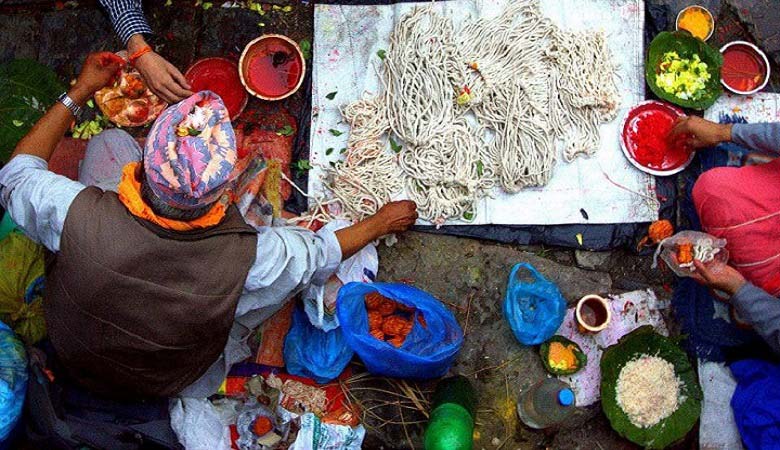 Janai purnima festival Date: Aug 31, 2023. Bhadra 2080 जनै पूर्णिमा
Janai purnima is the festival of sacred thread falling on the holy month of Shrawan of Nepali calendar. Also known as Rakshya Bandan, the festival symbolizes the bonding relationship among the relatives and family members. During this festival, people tie a doro (sacred colorful cotton thread) around the wrist believing that it will protect them throughout the year.
The male members of the family change the new Janai and break the old ones. They wear janai performing a puja called as Bratabandha. This is a ritual and tradition carried out since ancient time that has the historical and cultural significance in Nepalese culture.
What is Janai?
Janai is a thread which is made of cotton like string in Hindu religion men wears it across the chest. Only Hindu men wear it in ceremony of Brataband they started to wear it. It is a formal process for them to accept the religion. This culture is started from unborn time of anyone begin Hindu religion.
How Janai purnima festival is celebrated in Nepal?
Mostly this festival is held on shrawan purnima after this one by one festivals starts. Janai purnima is celebrated from ancient time till now in Nepal we celebrate it like we take bath in early morning and we go to temple tie thread in wrist from priest (pujari). On this we cook delicious dishes and every girls do aarati of their brother's and tie Rakshya thread in their wrist for their long life and good health.
Most of Nepalese visit Gosaikunda to attend the full moon day in August. In this places we can find many of holy lakes like Sarawati kunda, Ganesh kunda, Bhairav Kunda are surrounded their. This holy lake were originated by Lord shiva. Every year lots of people come here during full moon day "Dhami Jhankri's" perform their dances and worshiping god. On this day people take bath specially in pure river or pond where they wash their good bad things, thoughts of past 1 year and they become fresh from their soul. After 1 year they repeat the same process. We also see that Janai purnima is celebrated in Pashupatinath,  Khumbeshwor temple in Lalitpur, and in Tanahu Dev Gaath.
What are others forms of Janai purnima?
In Janai purnima we celebrate Rakshya Bhandan and kwati purnima , where kwati is a soup of different  9 beans and punhi means full moon day specially Newar scared thread on wrist and they take off in Laxmi puja in Tihar. In janai purnima people of Terai worship frog who is the agent of rainfall by offering different varieties of delicious food to frog we impress it and it may get rainfall and increment of crops productions.
What is the Myth behind Janai purnima festival?
There are many historical stories behind the Janai purnima/Rakshya bhandan. Goddess Laxmi went Bali's kingdom take back lorad Vishnu to Vaikuntha. Demon king Bali was a great devotee of lord Vishnu he took lord Vishnu with him for making him as guard of his kingdom. During Shrawan month she went to his Kingdom to tie scared thread to the king and they celebrate Janai purnima and she take back her husband back to Vaikunth because in this festival if any girl tie Raskha thread to anyone he must protect her and what she demand he must fulfill for her. Janai Purnima is a festival which is celebrated by every hindu with pure soul.
As Janai Purnima is on the way,  Nepal Tour Guide Team  offer a special festival discount on the Festival Tour and Gosainkunda Janai Purnima Festival Trek. Please contact us via our email or talk to our tour manager directly for more information.
Visiting Nepal during Raksha Bandhan is not only a holiday program but an opportunity to experience the Nepalese culture privately. You will know Nepali tradition, culture and enjoy the festival with full of fun and activity.
We (Nepal Tour Guide Team) express our warm wishes to you all on the special occasion of Raksha Bandhan.
Frequently Asked Questions
When is Janai purnima 2080?
Aug 31, 2023 .Bhadra 2080 14