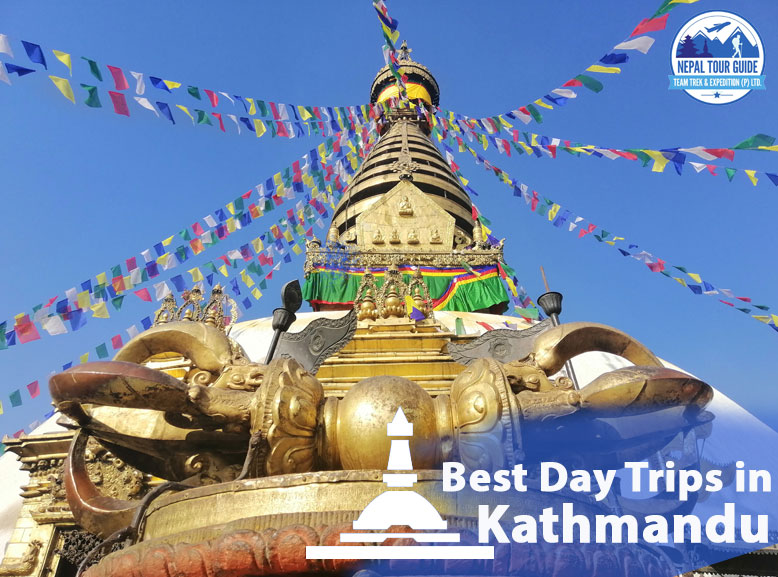 Kathmandu day trips where we get the full enjoyment with our friends, family and beloved ones. The trips from Kathmandu will start with sightseeing Kathmandu valley in UNESCO world heritage sites. 7 UNESCO heritage sites are in Kathmandu we can do 1 day sightseeing in Kathmandu. In UNESCO heritage site tour we visit places like:
Pashupatinath Temple
Boudhanath stupa
Patan Durbar square
Swayambhunath Stupa
Changunarayan temple
Kathmandu Durbar square
Bhaktapur Durbar square
We can do day trips like:
Bhaktapur city tour
Kathmandu world heritage site tour
Shivapuri hiking
Patan Khokana Bungmati day tour
Nagarkot sunrise Tour
Chandragiri Hill Station Day Tour
Buddhist Heritage tour in Kathmandu
Kathmandu Newari culture Tour
Kirtipur Half day tour
Bhaktapur City Tour
Bhaktapur half day tour will take you to the oldest village of Nepal. In this place you will find many devotee and get chance to involve in local life style activities. Bhaktapur the village with Newari culture. This city since Malla dynasty you will see the different pagoda and sculpture in ancient temple. In Bhaktapur you will visit temples which are enlisted in UNESCO world heritage. Temples Nyatapola, Bhairab Nath Temple. In this city we can see the houses with wood carvings, arts on wall with different colors. This city is most famous for JU JU dhau the sweet curd which is a type of desert homemade. Most of local people come here to just taste it.
Kathmandu world heritage site tour
To see world heritages sites which are listed in UNESCO world heritage this tour is most amazing to do. Kathmandu world heritage site tour will take you the ancient building and sculpture of Nepal. In this tour we will visit Kathmandu Durbar square where you can see the drawings on the wall of buildings and the design that shows the ancient Nepal and their livelihood. We visit Pashupatinath temple where you can see hundreds of pilgrims here. People come here to see the Hindus funeral here how they do it. We also do sightseeing in Boudhnath stupa where we can see Buddhist and Hindu religion people. We also visit Swayambhunath Stupa which is also known as monkey temple. These are the places where you will find the most amazing and fun tour with us.
Shivapuri Hiking
Shivapuri hike which will take you the 2536m of height from Kathmandu valley. In this hike you will see the natural scenic view different flora and fauna here. This hike starts from Buddhanilkanta. On the way of hike we will visit the Shivapuri National park where you will find more than 500 species in here. On the way of hike we get chance to visit Nagi Gumba which is located in 2330m of altitude from Kathmandu. We can see the main flowing point of holy river Bagmati from here.
Chandragiri Hill station
Chandragiri hill station tour which is introduced newly where you will get the ride of cable car with panoramic of Annapurna range to Everest. From here we get the adorable view of snow-capped peaks. In the height of hill there is temple and Small Park where children and adult can enjoy the view from height. This tour is more adventure with cable car ride.
Nagarkot Sunrise Tour
Nagarkot sunrise view from hill station from here you will get golden view of villages. The view of dramatic mountains. Mountains like Langtang, Dhaulagiri, in the west passes the marvelous mountain ranges along with Langtang peak with height of 7245m from this hillstation. We can also see other Himalayan range like Annapurna range, Ganesh himal, Jugal range, Manaslu range and many more we can find. After some time of refreshment we'll drive our way back to hotel in Kathmandu. Kanchenjunga which is east side of the hill top. We can enjoy the beauty from the hill station with scenery along with close ethnic, handmade crafts on the way.
Bungee jump
Bungee jump is activity which is full of thrill. Bungee jump in Bhote koshi will be small trip drive from Kathmandu. Nepal's first bungee jumping site is situated 160m over the wild Bhote Koshi River. It is located close to the Nepal-Tibet border, a three-hour bus ride from Kathmandu. The jump, at 160m, was designed by one of New Zealand's leading bungee consultants, and is operated by the most experienced jump masters in the business. It's mishap-proof. The agency takes safety very seriously.