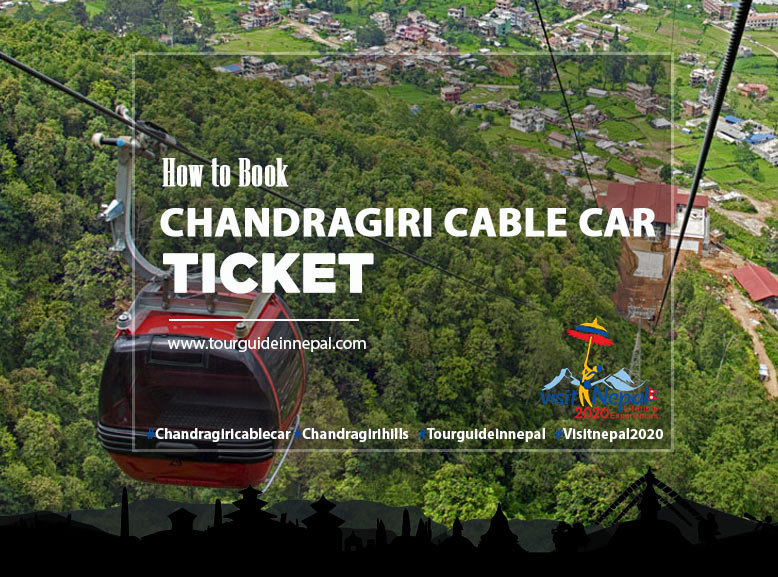 Candragiri Cable Car
Chandragiri Cable car is newly launched cable car in Thankot, Kathmandu by Chandragiri Hills Pvt. Ltd. The cable car is 2.5 kilometers long from Godam (Thankot) to Chandragiri Hill. The cable car takes 10 minutes to reach from Thankot to Chandragiri Hill. It can serve 1000 people in an hour. Cable car operates from 8:00 am to 5:00 pm on weekdays, and 8:00 am to 6:00 pm on weekends and public holidays.
Chandragiri Hills
Located on the south-west of the Kathmandu valley, Chadragiri Hill is now a famous hill station for both domestic and foreign tourists. This natural spot carries its own cultural and historical significance in Nepal since many years. It came into rise when Late King Prithivi Narayan Shah visited this place and incepted the idea to conquer the valley. It is believed that Prithivi Narayan Shah was granted the wish to fulfill.
Chandragiri Hill is situated at an altitude of 2520m above the sea level and 7 kilometer far away from the Kalanki bus station. From the atop, you can witness the Himalayan ranges from Annapurna to Mt. Everest. It is popular for mountain views, snow fun, cultural activities, cable car ride, dine, family holiday, educational tour and an overview of Kathmandu valley.
Chandragiri Cable Car Ticket Price
| | | |
| --- | --- | --- |
| Nationality | One Way Cost | Two Way Cost |
| Nepalese | NPR 415 | NPR 700 |
| SAARC Nationals | INR 415 | INR 700 |
| Chinese Nationals | USD 9 | USD 15 |
| Others | USD 13 | USD 22 |
Bhaleshwor Mahadev Temple
According to Hindu mythology, it is said that the forehead part of the Goddess Satidevi had fallen right here atop Chandragiri Hill.
King Prithivi Narayan Shah's Statue
Side to Bhaleshwor Temple, you can find a statue of Kind Prithivi Narayan Shah resembling the unification of Nepal. According to legendary say, Prithivi Narayan Shah visited Chandragiri before conquering Kathmandu valley and pray at Bhaleshwor to make his wish come true. This is now popular for selfie photography for the visitors.
How to reach Chandragiri Hill
You can find the Chandragiri Cable car ticket station at the foothills of Chandragiri Hills located in Thankot. To reach there, you can hire a car, taxi or go on a Bus available from Kalanki to Thankot.
Things to do in Chandragiri
Bhaleshwor Mahadev Temple Darshan
Selfie
View Tower
Cable Car Ride
Cafe Fountain
Bar@2520
Multi Purpose Hall
Children Playground
Branded Shops
Chandragiri Boutique Resort
Zip Flyer
Paragliding
Amusement Park
Best Time to Visit Chandragiri Hill
Visiting to Chandragiri hill can be made all year around but the crowd flock to this place from November to February. During the month of shrawan, Nepalese people pay visit to this place to pray Lord Shiva. It is also crowded during the public holidays and festivals. From December to February, people visit Chandragiri for playing with snow.
Frequently Asked Questions
Where is Chandragiri Hill?
Chandragiri Hill lies on the south-west of the Kathmandu valley, 7 kilometers from Kalanki buspark.
What are the timings for cable car operation?
Cable car would be operating from 8:00 am to 5:00 pm on weekdays, and 7:00 am to 6:00 pm on weekends and public holidays.
How long is the cable car journey?
Cable car journey is 2.5 Kilometers long and would take anywhere from 9- 12 minutes.
How to go Chandragiri Hills from Kathmandu?
You can get the details above about the details; how to go Chandragiri Hills.
How much is the Chandragiri Cable car ticket price?
We have mentioned detailed information above in Chandragiri Cable Car Price section. If you want more information, please call our tour manageer +9779851243700 (Kumar Dahal).
When is the best time to go to Chandragiri?
Please get details about the best time to visit Chandragiri above.
Can wheelchair passengers travel on the cable car?
Yes, they can. Our cable car operators will assist wheelchair-bound passengers in boarding cable cars.
How many people can a cabin or Gondola carry?
A maximum of 8 passengers can be accommodated; children aged below 3 years old also counts as one person.
What are the rates for infants and children?
Infants and children below 3ft can travel for free and children from 3 to 4ft get a special discount of 40%.