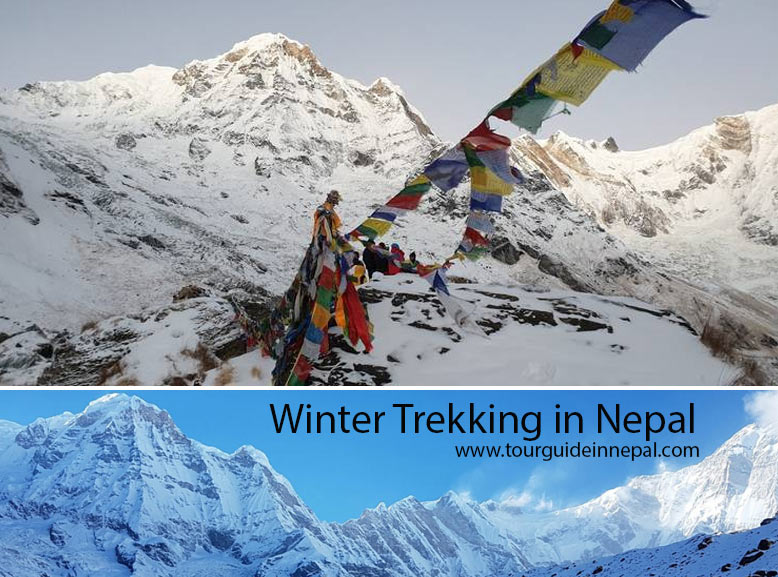 If you ask to any trekking agencies of Nepal "will it be possible trekking in Nepal in winter?", they simply say No. It is because winter is the off-season for tourism in Nepal.
Trekking during the winter season can be doable to low altitudes up-to 3500m. Going up this, you will experience snowfall and chilling cold.
The days are sunny with the clear blue sky best for Himalayan views. But, the nights are chilling cold. Pack warm cloths and sleeping bag with you while trekking.
Sometimes trekking during December, January and February could be dangerous as you lost your way, teahouses on the route are closed and heavy snowfall. So, Nepal Tour Guide Team recommend you to trek on low altitudes and here we have some suggestions.
Table of Contents
Best Winter Treks in Nepal
Everest Panorama Trek
Annapurna View Trek
Langtang Valley Trek
Around Kathmandu Trek
Chitwan Chepang Hills Trail Trek
These are the short and easy treks in Nepal and have the low risk on doing. You can do short and easy treks during December, January and February.
Frequently Asked Questions
What sort of weather can be expected during winter in Nepal?
You can expect the dry and stable weather during winter in Nepal. Sometime, it may rain for few hours but it doesn't go for long. The weather below 3000m will be warmer whereas the higher altitudes is risk of snowfall.

You need to be alert of weather as we can't predict the weather of Himalayas. During the night, it will be freezing cold so bring the warm cloths and sleeping bag.
Is trekking in Nepal in Winter safe?
We say "Yes" for low altitude treks below 3000m. But, as we go higher, the risk is high. Sometime, weather may not be favorable and make us in trouble in higher altitudes.
What trekking gears do I need for Trekking in Nepal in winter season?
Warm cloths and proper trekking gears are highly recommended during winter season in Nepal.
Do I need any trekking guide or porter for winter trekking in Nepal?
Yes. Whether you an experienced trekker or trekking in Nepal for the first time, we recommend to trek with a guide during winter season. An experienced trekking guide may help you in trouble and guide you for the best trekking experience.