Trekking in Nepal in June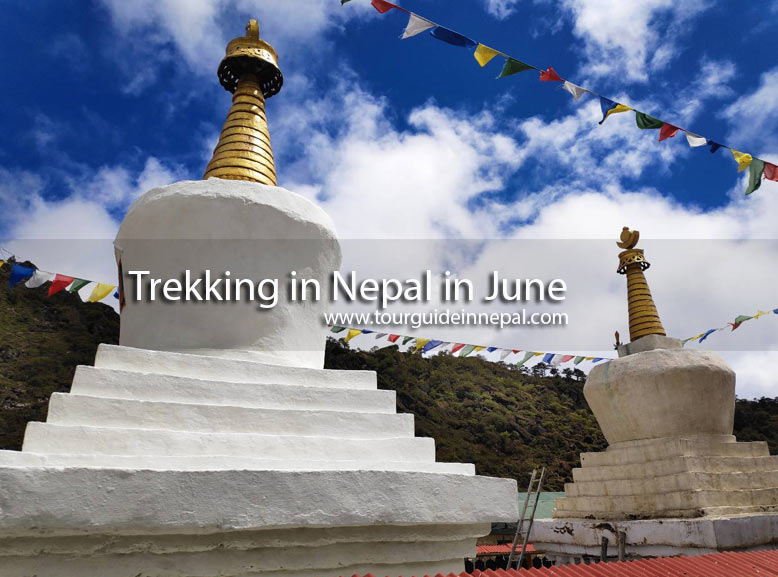 Trekking in Nepal in June is the off-season of Nepal tourism but you will experience a difference with the nature, weather, mountain views and culture.
It is the starting month of monsoon season so you can expect rainfall or cloudy skies during trekking. The trekking trail is less crowded as compared to other trekking months.
You need to carry the appropriate trekking gears, rain gears and clothing for hiking in Nepal in June.
Best Trekking Trails during June in Nepal
Annapurna circuit Trek
Upper Mustang Trek
Nar Phu Valley Trek
Upper Dolpo Trek
Langtang Gosainkunda Trek
Recommended Wearing Gears for the June
Since it is the monsoon season, you need to carry the best rain gears with backpack cover, pants, t-shirts. An umbrella, a raincoat and good hiking boots/shoes will be good option.
Tips for Trekking in Nepal during June
Start your trek early in the morning to avoid rainfall if occur. Usually, rains occur in the afternoons than in morning.
Be aware of the weather and possible natural calamities like landslides, flood and soil erosion. Get informed about the trekking destination you are hiking to with your guide.
Expect wet trails, leeches and slippery road. Carry salt to remove leeches from your skin.
Carry rain gears, backpack rain cover.
Stay hydrated.
Frequently Asked Questions
Do I need a travel insurance for hiking in Nepal in June?
Yes, you will need a travel insurance while hiking in Nepal in June. The wet, slippery trekking path often lead to leg injuring and slips. So, travel insurance is highly recommended.
Are trekking permits available during June in Nepal?
Yes, trekking permits to the hiking trails are available during June in Nepal. Permits are available in Kathmandu and Pokhara.
Is trekking accommodation on the trail open during June in Nepal?
All the trekking accommodation are opened during trekking in June.
Conclusion
June is the monsoon season trekking and the monsoon bring rain in all parts of the nation. We recommend to carry out the trekking in rain-shadow areas where the chances of rainfall is very less.
The crowded trekking trails even get empty during this time and you will meet trekkers getting back from trekking destinations. The tea house on the trails will be open on few trekking trails.
June is the best time to enjoy the greenery everywhere and loneliness for research. This is time for rice plantation and agricultural activities. You can join the national event National Paddy Day celebrated on Asar 15.