Discover why trip to Nepal is life-changing experience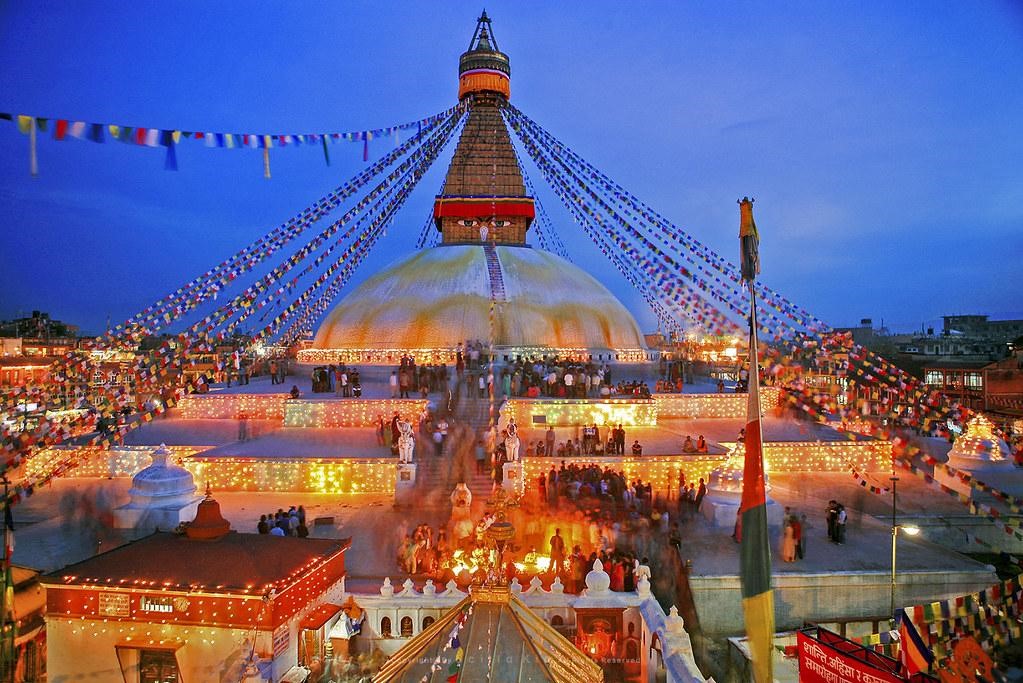 Make My trip to Nepal!
Trip to Nepal is an adventurous journey with joy.
Are you confused about where to celebrate the holiday season? Thinking of going to an adventurous yet serene place, so you have landed at the right place.
Nepal is becoming a tourism hotspot these days among people across the globe.
From the temples and monasteries of Kathmandu to the stunning mountain views of the Himalayas, Nepal is a tourist attraction.
We'll provide tips and advice for planning your trip, and a comprehensive list of places to visit and activities to do. So, come along and explore the wonders of Nepal with us!
Top places to visit
From the snow-capped peaks of the Himalayas to the lush jungles of the Terai, Nepal is a land of great biodiversity and a popular destination for adventure seekers and nature lovers alike.
Here are some of the top places to visit in Nepal:
1. Kathmandu Valley: Kathmandu Valley is Nepal's cultural and religious heart, full of ancient temples, monasteries, and monuments. Visit Durbar Square and explore the many temples and shrines, as well as the bustling markets. 
2. Pokhara: Pokhara is another popular destination for trekkers and nature lovers. This beautiful city is surrounded by stunning lakes and mountains, making it a great place to relax and enjoy the views.
3. Kopan Monastery: The Kopan Monastery is a Tibetan Buddhist monastery situated on the outskirts of Kathmandu. It is a major Buddhist tourist attraction. 
4. Boudhanath Stupa, also known as Chorten Chempo, is a Buddhist stupa in Kathmandu, Nepal. The stupa is considered one of the largest stupas in the world. The stupa is a popular pilgrimage site and is surrounded by numerous monasteries, temples, and shops.
5. Garden of dreams: It is a beautiful and tranquil oasis in the heart of Kathmandu. The Garden of Dreams is a must-see for tourists visiting Nepal. Visitors can explore the gardens, admire their beauty, or take refuge in their peaceful atmosphere. Nepal's tourism industry is growing every year, and the Garden of Dreams is one of the main attractions that bring people to the country and is an integral part of its tourism.
Exotic food
The Nepal tour is incomplete without trying the lip-smacking Nepalese cuisine.
Let's take a virtual tour and see the exotic food you can find here.
1. Dal-Bhat-Tarkari: This is a classic Nepalese dish that is a combination of lentil soup, steamed white rice, and a spicy vegetable curry. It is a staple of Nepalese cuisine and is often served with pickles and yogurt.
2. Momos: These steamed dumplings are a major attraction and are filled with meat, vegetables, or cheese and served with a spicy chutney. Momos are popular in Nepal and are often served as an appetizer, snacks, or meals.
3. Sel Roti: These sweet, doughy rings are made from rice flour and resemble a cross between a donut and a bagel. Sel roti is traditionally served during festivals and special occasions. 
4. Aloo Tama: This Nepalese curry is made with potatoes, bamboo shoots, and black-eyed peas. It is usually served with steamed white rice or flatbread.
5. Yomari: These sweet, steamed dumplings are filled with a sweet bean paste and are usually served on special occasions.
You can find a number of hotels and restaurants which have good food. If booking your trip with www.nepaltourguide.com we have got it all covered for a hassle-free trip to Nepal.
Travel Guide to the trip to Nepal
Here's a complete guide to the Nepal tour along with our tariff plans
1. Before You Go:
Check if you require a visa for entry into Nepal.
Make sure you have travel and health insurance.
Research the local customs and laws of Nepal to ensure you stay within the law. Exchange your currency for Nepalese Rupees
2. Things to do:
Visit the world-famous temples and shrines in Kathmandu.
Trek the Himalayas, explore the Annapurna region or visit the Chitwan National Park.
Take a river rafting trip or a hot air balloon ride.
Enjoy the local culture and cuisine at the many markets and street-food stalls.
Go on a wildlife safari and spot some of Nepal's exotic birds and animals.
Nepal Tour Guide Plans and Tariffs
| | | |
| --- | --- | --- |
| Trip | Duration | Charges |
| All Nepal Tour | 16 days | $1750 |
| Kathmandu-Pokhra Tour | 5 days | $600 |
| Annapurna Sanctuary Trek | 11 days | $580 |
| Kathmandu Valley Tour | 4 days | $550 |
| World heritage site Tour | 15 days | $1700 |
| Kathmandu-Lumbini Tour | 7 days | $1725 |
Nepal is a land of majestic mountains, lush forests, and stunning scenery. From the hustle and bustle of Kathmandu to the stunning lakes of Pokhara, Nepal has something for everyone. Whether you're looking for adventure, cultural exploration, or just a relaxing getaway, Nepal has it all. So what are you waiting for? Book your trip to Nepal now and start your unforgettable journey!