Trekking in Nepal in October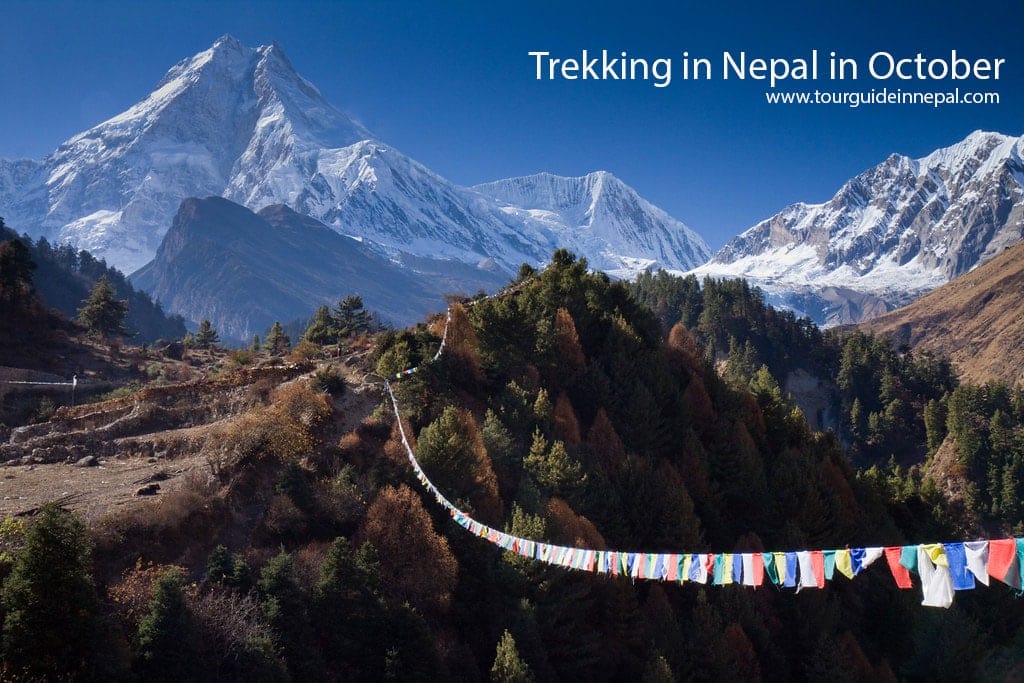 October, between of September and November is the best month for Trekking in Nepal. Trekking in Nepal in October is most frequented as thousands of trekkers flock to the country every year.
The main trekking season of the year, autumn season is the popular time for trekking in Nepal. The best trekking experience, culture, wide range of trekking routes, clear mountains views and beautiful panorama are the reasons why trekkers choose October for trekking and hiking in Nepal.
You can encounter people working in the farmlands of the remote village during Nepal trekking in October. This month is the main season for harvesting the crops. The main occupation in Nepal is agriculture.
You can witness and enjoy the greatest Nepalese festivals like Dashain and Tihar during Nepal in October. These are the longest festivals of Nepal with significant role in Nepalese culture and tradition.
Weather during October in Nepal
October is the perfect time for trekking. There is mild temperature and clear mountain views with very less chances of rainfall.
The weather can be cool in high altitudes and the temperature drops during night.
You will encounter snowfall at higher altitudes above 5000m so bring warm cloths and good hiking boots.
Some Tips for Trekking in Nepal in October
The days are warm and sunny so it's better to pack shorts and t-shirts. But, include warm cloths for nights.
A good warm sleeping bag is a great idea. In some places, there might be deficient of blankets in tea-houses.
Trekking with a guide or a porter is highly recommended.
Book you trek earlier. Pre-booking of the trekking packages is recommended. October is the peak trekking month, so flights and accommodations are booked earlier.
Best Trekking packages
Everest Base Camp Trek
Annapurna Base Camp Trek
Manaslu Circuit Trek
Poon Hill Trek
Upper Mustang Trek
Pikey Peak Trek
Frequently Asked Questions
What is the weather be like in Nepal in October?
The weather in Nepal in October is good for trekking. October is the best month of the year for tourism in Nepal and have the mild temperatures. Expect light cool weather at higher altitudes whereas lower altitudes has excellent weather.