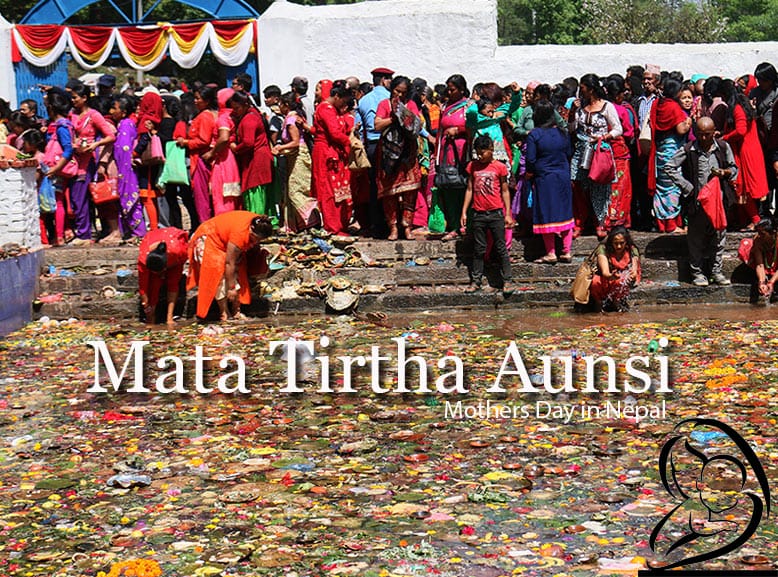 Mothers Day in Nepal
Mothers are the symbol of love, sacrifice, affection and strength so we do have a day to remember and honor our mother as Mata Tirtha Aunsi on the month of Baisakh.
This festival is also known as Nepali mother's day celebrated to honor mother for her unconditional love and sacrifice. Amako mukh herne din is widely celebrated by Hindus all over the world. Generally, this festival falls in Baisakh – first month of Nepali calendar i.e. April of Gregorian calendar.
Nepali Mother's day Date 2080
Mother's day in Nepal is on Baisakh 07, 2080 whereas it is on April 20, 2023. mata tirtha aunsi 2080
Where to go to celebrate Mata Tirtha aunsi festival?
Every year on the new moon day of Baisakh,  people visit Mata Tirtha which is a famous pilgrimage site located in western Kathmandu. People visit Mata tirtha during the festival to remember their deceased mother. They take a holy bath in the pond and offer tarpan and sida to a priest. There is a legend that people can see the face of their deceased mother in Mata Tirtha pond on this day.
Legends behind Mothers day in Nepal
According to the legends, a shepherd lost his mother and was so depressed. He went to Mata Tirtha pond and suddenly he saw his mother's face in the water.
From that day on, this day was known as Mata Tirtha Aunsi, the Nepali Mother's Day. People believe that coming to this place and worshiping on this day brings peace to the departed soul of their mother.
Newar community celebrate the festival by giving Saga with the gifts to their mothers. They go to their mother's house with the sweets and fruits to see their mother's face.
We have a special tour package highlighting the this auspicious festival including Chandragiri Day Tour. Contact our tour expert for cost and details of the tour package.
Frequently Asked Questions
When is mata tirtha aunsi 2080?
Mata tirtha aunsi is on Baisakh 07, 2080.
When is mata tirtha aunsi in 2023?
The festival is on Apr 20, 2023.