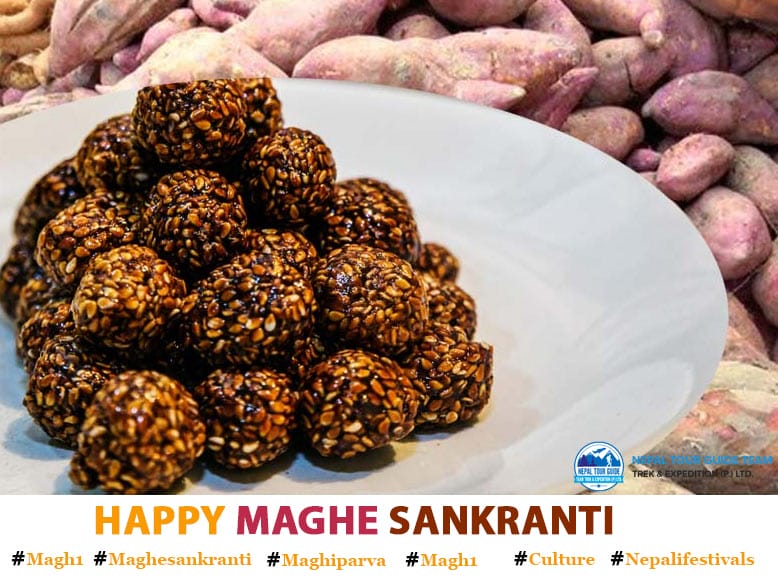 Maghe Sankranti Festival Date 2080/2024
It is a festival which is celebrated on 1st Magh every year. The word sankranti stands for the 1st of every month in Nepali, and hence the 1st day of month of Magh is celebrated as Maghe Sankranti. This day is believed to be the coldest day of the year and celebrated as people hope for the spring season to come very soon after this. माघे संक्रान्ति
Who Celebrate? This festival is celebrated merely by the Hindus of Nepal, and a small amount of Indian Hindus celebrate it as 'Makar Sankranti'.
Foods
In Newari language, Ghya means Ghee, chaku means Molasses and sahlu means sankranti.
Foods such as sweet potato, laddoo (especially made from Seasame) and ghee are distributed, and are also prepared in most of the houses and the families have them together as fiestas.
Maghe Sankranti literally means the fist day of Nepali calendar month Magh. It is auspicious day to celebrate for Nepali Hindu people. It falls generally on the mid of the January.
Places to Visit
Hindu people observe the festival by taking ritual bathing nearby the pond and river. The holy rivers for celebrating this festival are Bagmati near patan in Shankhamul Kathmandu, Narayani river in Triveni Nawalparasi, Devghat, ridi in Kaligandaki Syanja and koshi river at Dolalghat.
They perform puja offering laddoo, ghee, flowers and tika. After the puja, the mother of the house distribute these sweet things to all the members and wish for the good health and prosperity of family members.
Maghi Festival of Tharu Community
Maghe Sankranti is also important for Tharu Community as they celebrate this festival as New year. The tharu people call it Maghi and they celebrate it with their family, friends together by singing, dancing and having delicious foods.
Festival of Magar Community
Maghe sankranti is also a religious festival of Magar community and they celebrate it as their new year.
Bull Fighting in Nuwakot
On Magh 1st, there is an event of Nepali bull fight organized in Taruka village of Nuwakot.
Maghe Sankranti Wishes
Happy Maghe sankranti to You ❤️ from Nepal Tour Guide Team Trek & Expedition Pvt. Ltd.
Frequently Asked Questions
When is Maghe Sankranti?
Maghe Sankranti is on 1st Magh 2079 according to Nepali calendar whereas it is on 15th January 2023 according to English calendar.
How is Makar Sankranti Celebrated?
Makar sankranti is celebrated by taking holy bath, performing puja and having delicious foods including Til ko laddoo, ghee, Sesame and Chaku.