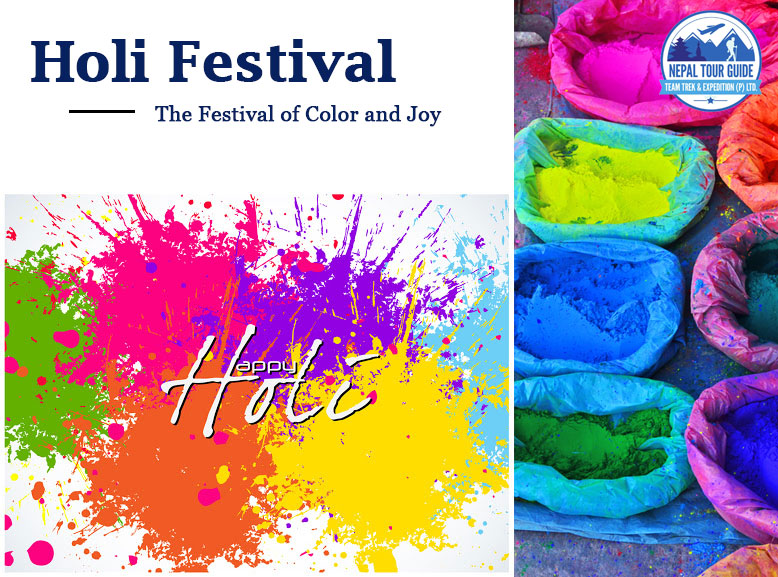 Holi festival is the most colorful cultural event celebrated in Nepal. The festival is mostly celebrated by the Hindus all over the world. Holi festival generally falls on March of the Gregorian calendar whereas Falgun of Nepali calendar. March 24 in 2024. फागु पुर्णिमा
Holi is also known as the Fagu Purnima and celebrated for 2 days. The festival is celebrated in Terai region of Nepal a day after the celebrated in Hilly region. The Festival is on March 24 in 2024.
During the festival, people celebrate by throwing dry color power and colored water to each other. Holi marks the arrival of Spring and summer season.
Important tips for celebrating Holi festival in Nepal
Buy White T-shirts. Holi printed T-shirts will be available in the Nepalese shops at a budget around NRs. 250-300.
Bring water proof things like Cameras, personal belongings. Wrap your mobile with plastics.
Protect your eyes with the Goggles.
Don't wear expensive ornaments or keep it at your hotel locker.
Do not eat anything offered by any strangers.
Wear helmets, seat belts for your safety drive.
Don't drink hard drinks or anything that are prohibited by Nepal's rule in public places.
Nepal Tour Guide Team Trek and Expedition Pvt Ltd wishes you a Happy Holi. If you are planning a festival tour or trek in Nepal, contact us for the best customized holiday plan. We have 2 day Holi Festival 2022 tour for you to experience the mystic culture, festival and meet with Nepalese people.
Frequently Asked Questions
When is Holi in Nepal?
Holi is on Mar 24, 2024 according to Gregorian calendar and on Falgun 22 and 23, 2079 according to Lunar calendar.
What are the best places to celebrate Holi in Nepal?
The streets of Kathmandu, Kathmandu Durbar Square, Thamel, Lakeside road in Pokhara, Lumbini, Chitwan are the best places to experience Holi in Nepal.
What is Holi?
Holi is the spring season festival celebrated for two days in Nepal. It is the cultural event of victory upon evil.