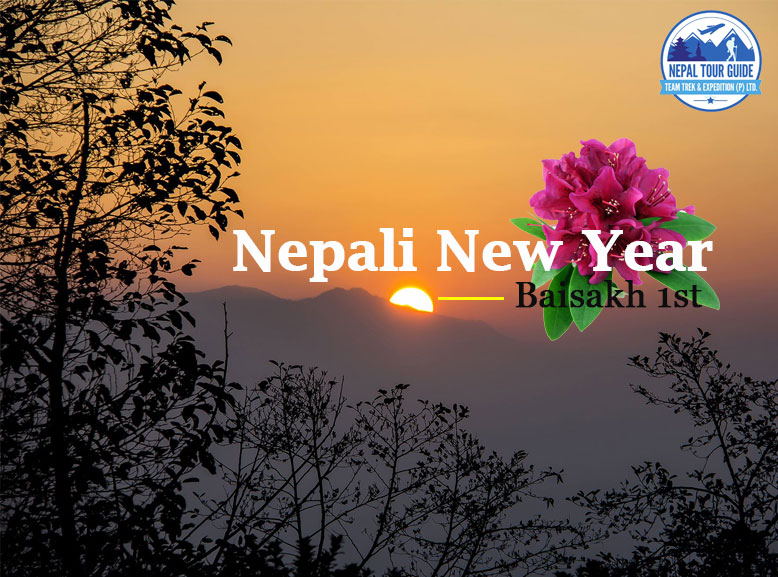 Nepali people follow own calendar known as Bikram Sambat and it starts from 1st day of year Baisakh. Nepali New Year is observed as a holiday to enjoy, eat and visit new places. It is also known as Naya Barsa or Nava Barsha in Nepali language. New Year in Nepal generally falls on April month of Gregorian calendar. People just enjoy the day as festival.
There are different way of celebration of this day. There are Bisket Jatra, Sindoor Jatra and Bode Jatra on this day in the traditional city Bhaktapur. New Year's Eve parties and events are organized by restaurants, hotels and clubs for youths who like to enjoy parties.
Nepali New Year: Festivals to witness
Bisket Jatra
Sindoor Jatra
Bode Jatra
Suggested Trips by Nepal Tour Guide during New Year in Nepal
New Year in Nepal falls on April month which is great time for visiting for tours and sightseeing, trekking, short hiking, mountain biking, paragliding, bungee jumping, zip-flyer, river rafting and jungle safari.
We suggest you to these itineraries
Nepal Honeymoon Tour
Family Tour in Nepal
Everest Base Camp Trek
Explore Nepal Tour
Poon Hill Trek
Kathmandu Valley Trek
All Nepal Tour
Kathmandu Nagarkot Pokhara Chitwan Tour
Nagarkot Day Hike
Nagarkot Dhulikhel Hike
Namobuddha Day Hike
Kathmandu Bandipur Pokhara Tour
Upper Mustang Trek
Mardi Himal Trek
Bhotekoshi Bungee Jumping
Trishuli River Rafting
Bhotekoshi River Rafting
Paragliding in Pokhara
Chitwan Jungle Safari
Bardia Jungle Safari
Hindu Pilgrimage Tour
Buddhist Pilgrimage Tour
Frequently Asked Questions
What is Nepali New Year?
New Year is the starting day of the year according to Nepali calendar. It's Nepal Sambat in Nepal.
What day is Nepali New Year?
Baisakh 1st is celebrated as Nepali New Year.
What calendar is used in Nepal?
Bikram sambat or Nepali calendar is used in Nepal.